October's less than a city block away, and we can almost see the leaves starting to change from here. (OK, that's a lie. We CAN see leaves starting to change; we're just refusing to admit it because we're not ready to let go of summer yet.)
To help ease the transition from tan lines and flip flops to cozy sweaters and boot socks, we're bundling up in chic-cozy layers from our exclusive line at HSN.com. Here's a peek at what we're loving f0r these early weeks of almost-fall!
Simple and Classic
Maxime is a soft-knit car coat, all done up with a rib-knit-trimmed front, cute collar notches, and three decorative buttons on each cuff. We love this over leggings, skinnies, and if we're honest… yoga pants. It definitely amps up the luxury on lazy Sundays!
On those mornings we need a "quick grab" to get out the door, Amelie does the trick by providing a stretch jersey cardigan and nubby inner shell… all in one! The long sleeves even have roll-up tabs, perfect for those days that start out chilly and warm up in the afternoon.
Another member of the "quick grab and look gorgeous in a flash" family, Mayrse is a two-piece set with gorgeous beaded trim and crochet-inspired detail on the neck and sleeves of the jacket, and slightly shirred armholes on the simple, comfortable pullover tank underneath.
Bold and Beautiful
It's never, ever too early in any season for sequins, as Merilee well knows! This duster-length sweater has an open front, ruffled collar, and plentiful helping of sequins scattered throughout. We love this piece for dressing up simple basics, like dark denim and dress pants.
As for Alix, she blazes a cozy trail all her own in touchable faux fur. Even better, the design is reversible, flipping to reveal smooth, printed satin on the reverse. Two great looks in one? Sign us up. We're in.
Dionne is our denim darling, beautifully accented by stunning, slightly edgy contrast embroidery, a savvy sprinkling of faceted studs, and curved princess seams for a flattering fit.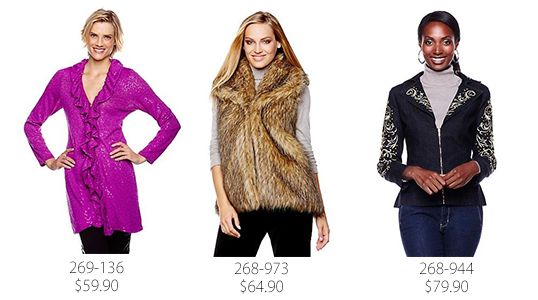 Remember, these pieces are only available at HSN.com, and trust us when we tell you that they go fast! Stop in, take a look around, and make some new additions to your fall wardrobe while they last!
Are you rocking any of our fantastic layer-friendly pieces this season? Visit us on Facebook and share a shot!
[really_simple_share]