Oh it's the dreaded word – budget, I know, trust me! But, the good news is, I'm here to tell you that you can have an amazing wardrobe while sticking to your budget! It's true! It all comes down to knowing how to maximize your spending to allow your wardrobe to be used in versatile ways.
Get your Staples
The first step to creating a versatile wardrobe is to make sure that you have plenty of staples. By this we mean pants and tops in neutral colors that work with just about anything. No, don't start yawning; this does not equal a boring wardrobe! Once you have your staple pieces, then you can use your budget to invest in fun pieces, such as those with sparkle and shine. It's all in the details, baby! You can wear the same pants and shirt yet have it look like an entirely new outfit with one little spin.
Let's take a look at a few staples. Aside from your standard black pants and white tops, you will need a selection of denim that shines, such as the "Orianna" Stretch Jeans which have just enough flair to make them dressy, but work perfectly well as casual dress, too. The "Beaumonde" jeans are another perfect choice as they are stretchy and comfortable, yet stylish. For those times that you need to be a little dressier, or just do not want denim, there is the "Sevita" leggings, which are the perfect staple legging to have in your closet!
Time to Have Fun
Once you have your staples, it's time to have a little fun! Let's take a look at what we mean. Take your standard black pants and white top. Yes, it's an attractive look that can be worn anywhere – but it's boring. Now, add the "Charon" Lace Trimmed Knit Cardigan over these staple pieces and you have instant glamour with a capital G! Slip your hair up and wear your favorite long earrings and you have just glamourized your "boring" outfit!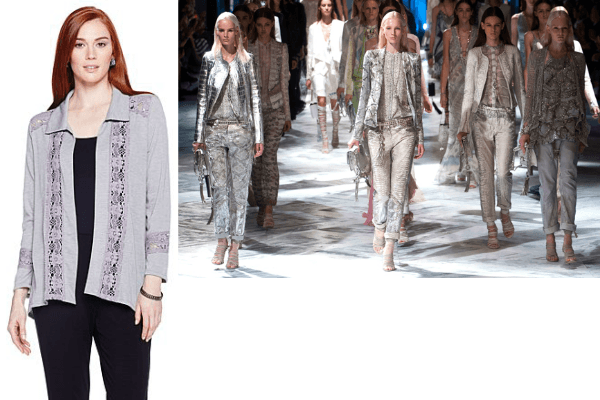 One of my favorite ways to stretch a wardrobe budget is to invest in shawls and scarves. Nothing takes an outfit from boring to extraordinary like a beautifully printed scarf, such as the Queen of the Jungle scarf. Wrap it around just your neck for a preppy look or drape it over your entire upper body or a more dramatic look. The benefit in wearing scarves, such as this one, is the ability to give the same outfit an entirely new look. You could get away with the same top and pants, simply by switching the scarf and how you wear it! Talk about a budget stretcher!
There you have it ladies, simple ways to start and finish your wardrobe. Start with those basics, making sure that you have plenty of colors and styles to work with, then have fun with those extras! We cannot wait to hear about your wardrobe on a budget. Come visit us on Facebook and tell us your tips and tricks!
FABULOUSLY FUTURISTIC STYLE
Welcome to the past, present and future of style combined into one fabulously forward-thinking collection from Antthony. These retro-futuristic designs blend vintage shapes with modern texture and patterns for a warp-speed update to your wardrobe. All the time travel trends indicate these are the looks that you never knew you always wanted – until now!
We invite you to celebrate 20 years of great design by Antthony, by tuning into the upcoming HSN shows. Throughout the year they will be featuring special pricing on the most cutting-edge designs and showcasing the best deals of the season. So let tomorrow's styles be yours today when you log in to HSN.com and look for Anthony under the fashion tab, where you will see more looks than ever before. All designs fit women from size 4 to 26W. The future of style begins now!
[really_simple_share]