There's nothing crueler than those weeks that feel like a never-ending string of Mondays. You know the ones; like the week you thought, "I'll wear these cute shoes and start my week off right!", and then it rained all over them… or the week the boss was feeling particularly micro-managey… or the one where every single day lasted at least two hours longer than it should have. THOSE weeks.
Consider these outfit ideas your reward for surviving extra-treacherous weeks like the ones we mentioned. Welcome to the weekend! You're going to look great.
Idea #1: Basic tee + maxi dress + flats/sandals
Bonus additions: Statement jewelry; light scarf, a pedicure for no reason beyond "I deserve it"
OK, OK. We know. Nothing feels better than trading in your work clothes for sweats, bare feet, and a messy bun. However, when you create the stunning style trifecta of a favorite tee, maxi skirt and flats or sandals, it's almost as comfortable as the ol' yoga pants and T-shirt combo… it just looks stylish enough that you can rock it all weekend long and score some bonus compliments along the way.
If you're looking to mix it up. go even further with the tee idea and bring in one with embellishments, or try taking a looser-fitting, oversized tee and knotting it at one hip. Also, your good accessory friends—statement pieces, scarves, a fun pop of color on toes and nails—are great at instantly elevating your look just one notch higher.
Idea #2: Bermuda shorts + tank/tee + big, floppy hat
Bonus additions: Wedge sandals, an "arm party" of bracelets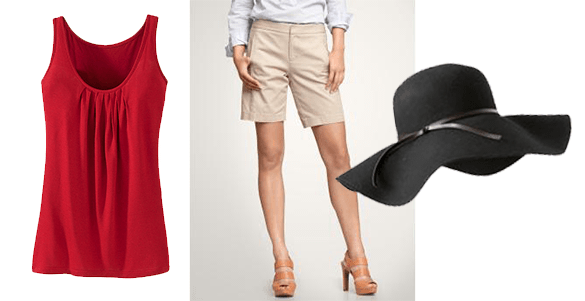 Who wears short shorts? Well, maybe you, sometimes—but in the world of wind-down outfits, Bermuda shorts are key. Depending on your height, these classics usually hit just above the knee or right in the center, which gives you a free pass for bringing out longer shirts to wear with them. (No one loves a long shirt and short shorts combo. That "I'm not wearing pants" look never quite caught on.)
The cherry on top with this outfit is the big, floppy hat. No longer the sole territory of beach-goers, hats are your best friend when it comes to hiding bad hair days (or simply don't-wanna-do-the-hair days) and finishing off a look with fun, summery flair.
Idea #3: Basic tank top + flowy linen pants + sandals
Bonus additions: Flashy sunglasses, a wrist full of bangles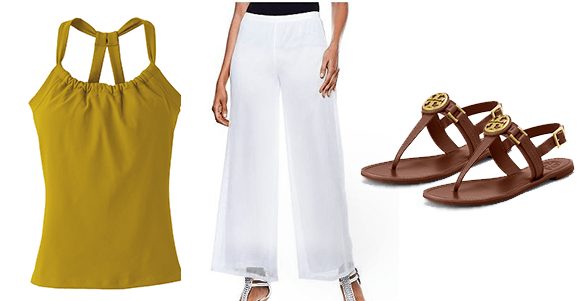 You'll look like you just swept in from the beach, even if you're fully landlocked, in this summer-friendly idea. Something about loose, flowy linen pants invokes an instant summer vibe—and, hey, they're really just one step away from yoga pants, comfort-wise! Top off the pants with a simple, well-tailored tank to "anchor" your shape and balance out the roominess of the bottoms, slide into your most comfortable sandals or slides, and… aaah. You can already feel the tension from the week melting away, can't you?
We'd love to see your take on these weekend wind-down outfit ideas; snap a picture if you try one out and post it to our wall on Facebook to inspire your fellow weekend wind-down warriors!
[really_simple_share]