Throw open your closet doors and take a good, long look inside. If you're finding yourself thinking, "I have absolutely nothing to wear!", then this post was made for you. Using pieces from our exclusive HSN.com collection, we've put together some fresh ideas for mixing and matching separates, and finally putting an end to the dreaded "Nothing to Wear" debacle.

Let's Start With Layers.
Don't you adore pieces that transcend seasons? That's why the Mia embroidered cardigan and tank set is one of our favorites; the lightweight stretch mesh with romantic details transitions seamlessly from summer to fall, and layers over the included camisole, maxi dresses, tank dresses, tank tops, tees… you name it!
If you've got an airy piece like our Chiara fringe jacket with tassels, the possibilities are endless! Dare to wear it as a cover-up at the beach or pool; show off your shoulders with a strapless maxi underneath; or double up on trends by trying it over a bodysuit!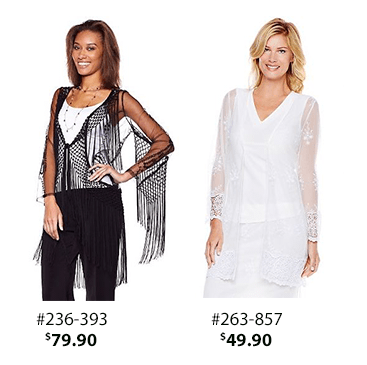 The Key to Tees
Far from basic, our comfortably styled Zarema butterfly poncho and Bailey striped tunic both look striking with slimmer-fitting bottoms for visual balance. Try styles like these with a sleek pencil skirt, figure-skimming maxi, or your favorite capris or Bermudas.
As always, an "arm party" of bracelets or a set of statement earrings are your ticket to transitioning from day to night, or from casual to chic. Fun silhouettes are even more fun to mix and match than classic, straight-cut tees, since they add instant style to whatever piece they join!
Dazzle on Date Night
Finding a piece like our Mya shirt in your closet is a stroke of luck, indeed; how much flirtier can it get beyond cut-out shoulders? Dress it up over a skirt—adding a belt to show off your curves, of course!—or keep the look laid back with help from skinnies and wedges.
Ruffled tops are always working their way into warmer seasons, so you're set for a summer's worth of parties with a ruffled tunic.
Thanks to a slightly longer cut, tunics work splendidly with leggings (solid or print, depending how daring you feel) and flat sandals or heels. They also dress up like a charm with help from slim-cut skirts.
For an equally dramatic look without the length, try a blouse with unique sleeves like our Fabiola; the sleeves do all the dressing up for you, leaving you free to style the rest of your outfit as you please. Simple earrings, basic jeans or pants, a favorite necklace… and you're ready to capture everyone's attention wherever you go.
Printed V-necks like the Keely are great pieces to keep around all year long. Play off the pattern with coordinating accessories in colors that draw from the pattern itself, and experiment with everything from long skirts, to skinnies, to short shorts on the bottom. As easy to wear as a T-shirt, but with effortless style the second you throw it on.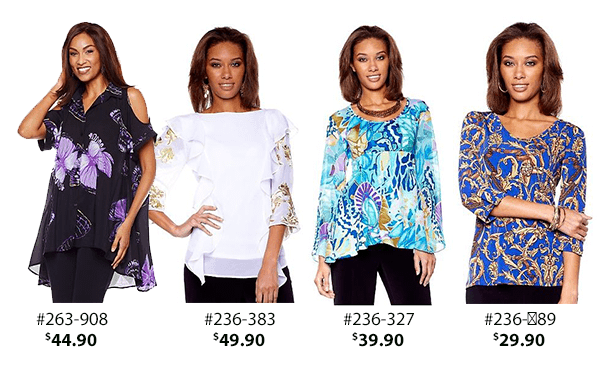 Bottoms, Because You Can't Go Without!
On extra-sweltering days, reach for airy designs like the Mia knit pants; balance out the look with a fitted top, or keep the airy look going by pairing with a similarly roomy, airy layer on top.
Detailed pants are no holds barred. Pair pieces like the Bernadette pants, the embellished leggings or the Lila embroidered crop pants with tunics, tank tops, flowy tops… the possibilities are never-ending.
Why not pick a piece that hasn't been out to see the sunshine this summer and take it for a spin? The details do all the work for you; just add a top!
Sassy Skirts
Some days, pants simply won't do—and that's where skirts come to the rescue! The Mia embroidered mesh skirt is a boho dream, instantly turning your style appeal to a perfect 10. Try it belted, or move up the waistband and test its versatility as a strapless maxi!
The Erin skirt goes from date night to work week with darling floral trim, and pairs up spectacularly with solid tanks and scoop-neck tops.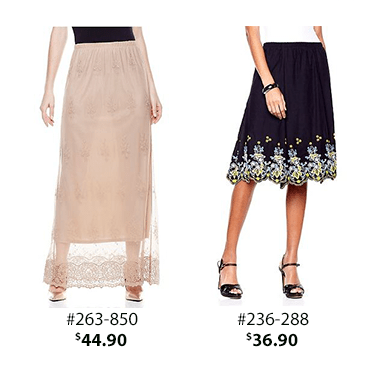 Visit HSN today for your chance to scoop up these exclusive pieces for your closet!
[really_simple_share]