We're right there with you, sista'; there is nothing that sounds more glorious at the end of a long work week than nestling down into some yoga pants and a hoodie. (It's like the unofficial uniform of comfort and happiness, after all.)
This weekend, it's time to switch things up. Give the yoga pants and hoodie a quick vacation, and spend your two-day work reprieve looking all kinds of cute in these exclusive pieces from our collection at HSN.com.
Instead of a hoodie, try embellished denim.
In denial of it though we may be, fall is just around the corner—and that's where these dashing jean jackets are waiting to welcome you with open arms!
Dionne sports intricate embroidery on collar and down each sleeve, and figure-flattering princess seams in the back for shape.
Date-night friendly Inessa alternates nailhead and bezel-cut rhinestone embellishments across the shoulders and upper sleeves, creating an instant "wow" factor over tees, tanks, and other favorites from the "weekend ready" section of your closet.

Instead of a tee, try a top with flair.
We already know y'all love Bailey; this striped tunic is a consistent best seller, and it's no wonder why: The combination of fun colors, flowy fit and mix-and-match-ability makes it an instant fave!
In the long-sleeve camp, the Hudson is positively radiant with its bold, Gothic-inspired cross print accented by faceted gems, and Cristelle throws a beautiful texture party with alternating swaths of boucle and lace.
Pick your favorite top, throw on your favorite jeans, and wish your yoga pants a good day as you head out to take on the world—and look like a total stunner in the process.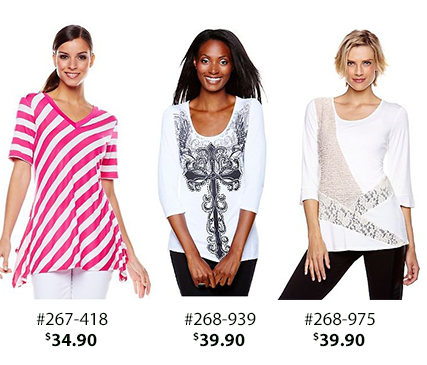 Instead of yoga pants, try going bold!
What better time than the weekend to step outside the box? We think you'll adore these personality-filled pants, starting with Dominique. The studs down each side are total stand-outs, and trust us—the ponte-knit fabric and elastic waistband will make you feel like you never left your fave sweats, even though you'll look like a million bucks.
A little bit bolder? Try Edith, decked out with fantastic, color-coordinated embroidery down each leg, or channel your inner bohemian with help from Mia—our knit pants with an airy, super-romantic overlay for an overall flowy, ethereal feel.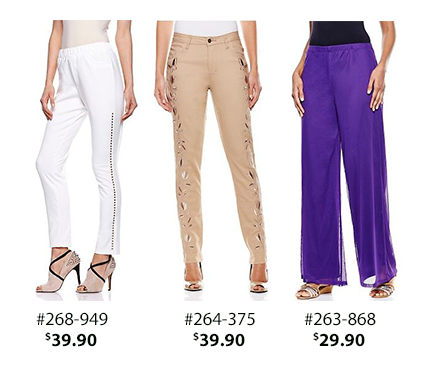 Thanks to our amazing fans like you, our HSN collection is going faster than a fresh-baked plate of chocolate-chip cookies on a crisp fall day—so snap up your faves now at HSN.com before they're going, going, gone!
[really_simple_share]