If you've been reading this blog for any length of time, you know that we're mildly obsessed with boots. And by "mildly," we mean, "No, we don't need an intervention! Just more room for our boots."
Like we said… mildly.
To help you in properly sashaying, strutting or working it through your local winter wonderland (because why just walk when there are so many other fun verbs you can try?), we've come up with a bevy of outfit ideas to see you through dressy, casual, and comfy occasions alike.
(Oh, and did we mention? Each outfit is based around—you guessed it—boots! Yay!)
All dressed up with everywhere to go
Heeled boots are more than just flattering for your derriere and gorgeous gams; they also heighten the drama and elegance of any outfit!
Especially in cold weather, trading heels for heeled boots is a welcome (and warm!) way to change up your look. For dressy occasions when you prefer pants over a dress or skirt, we highly recommend a fun pair of heeled booties. Booties (they even make sparkly ones) pair beautifully with everything from cigarette pants to dress pants with a bit of a flared leg.
Up top, have a little bit of fun! Seek out some subtle sequins; step outside your comfort zone with daring cut-out details; or go for the gold with glitter aplenty! (We ARE dressing up, after all.)
If you're in a dress or skirt, a heeled boot that hits at mid-calf or above is your best choice. In keeping with a dressy theme, we love a good pair of black boots. Especially with your favorite, winter-friendly little black dress, they create a long, lean line that translates into instant elegance. Also try knee-high or higher boots with a slim pencil skirt!
Casual perfection
Riding boots galloped into style with fervor, and they've yet to slow their pace! For weekends, laid-back workplaces or week nights, you can't beat the power of a great pair of riding boots. Try them out with a pair of leggings, an oversized sweater and a cozy pair of boot liners; with a complementary-colored leather jacket over a lightweight sweater or tee and slim-cut jeans; or a knee-length skirt with tights and a simple blouse or sweater.
With riding boots, the variety in styles is enough to blow your mind. Accents range from buckles and zippers to studs and straps, so you're sure to find a style to suit your taste. (All the more reason to include a few styles in your wardrobe, we say!)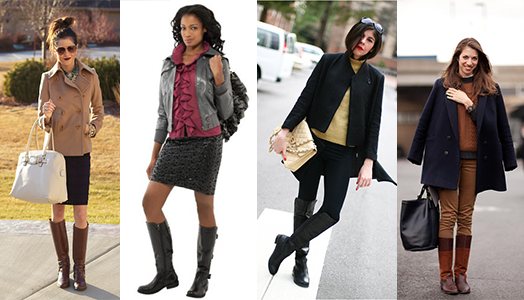 Blissed out, comfortable, and cute as can be
Comfy boots: One of THE best places to spend the weekend, if we do say so ourselves. Whether you choose a classic pair of solid boots with fluffy lining, a sweater-knit design that warms you to the core, or a creatively colored pair that boasts a pattern or bright palette… this style of boots is definitely not picky. Pair them with leggings, your favorite jeans… the possibilities are endless. After all, it's YOUR downtime; pick the best, most laid-back outfit you own, and indulge!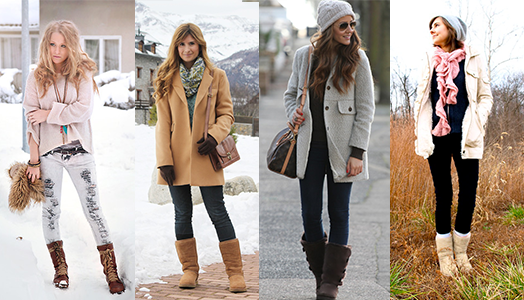 [really_simple_share]