It is officially summer time, which is the perfect opportunity to throw a casual cook out with friends and neighbors. Cookouts can be low stress and lots of fun, but often people go overboard with the planning and the celebration becomes a hot hassle. That's why I've put together some ways to keep it simple, but still sizzling with style for you and your guests. Let the cooking begin!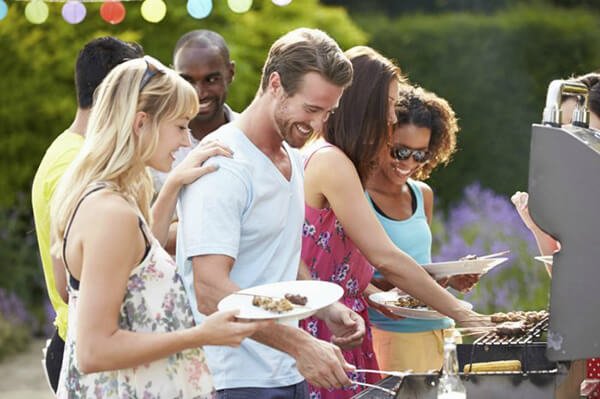 HERE ARE SOME TIPS TO COOKOUT IN STYLE THIS SUMMER!
Serve only a few dishes. When you are cooking for a crowd, make it easy on yourself and cook only a few of your favorite dishes. If you try to do too much, you'll end up in the kitchen all day long, which isn't fun for you, or your guests who are outside enjoying themselves. Use signature recipes that can be made in advance, and you will be ready to relax by the time your first guest arrives!
Use fresh ingredients. Since you're only making a few dishes, be sure to use the best ingredients. Splurge on some fresh local produce and organic meats. Leave you guests feeling full, happy and talking about your skills at the grill long after the sun goes down.
Focus on the grill. The point of a summer cookout is to be outside and enjoy the weather. Obviously you will be cooking your meat on the grill, but did you know you could also grill pineapple, corn, watermelon, peaches, onions, asparagus, bell peppers, jalapenos, avocados, zucchini, and artichokes? Try grilling some amazing side dishes and desserts as a pleasant surprise your guests.
Set up some activities. One of the best parts of the cookout is playing fun activities, like Frisbee or volleyball, while the meal is cooking. Your guests will love playing a game of bocce ball or croquet while enjoying the summer weather. Plus, it's a great way to keep kids of all ages entertained until dinner is served.
HERE ARE 5 PATRIOTIC WAYS TO DECORATE FOR YOUR COOKOUT!
So you're planning on hanging up an American flag like you do every year, but what other decorations have you got lined up for this 4th of July cookout celebration? There are some great DIY decorations that will absolutely 'wow' your guests and turn your cookout into a red, white, and blue patriotic party fit for the President!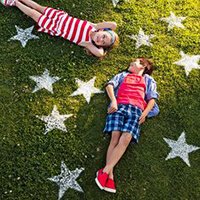 STARS
Make your lawn a canvas to show your patriotism, by covering it with giant painted stars in red, white, and blue. Your neighbors and guests will be impressed when they see your pride as they walk up. As long as you use temporary marking spray paint, your grass will be green again in no time.
STRIPES
Turn empty glass bottles into stunning party decor, with a little paint and a lot of spirit. Be sure to get a couple bunches of red, white, and blue flowers to fill these pretty centerpieces, and then line your table with them, for an easy and awesome patriotic look.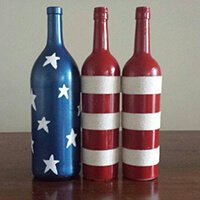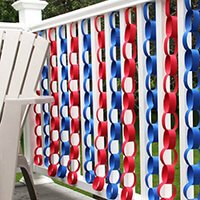 CHAINS
Grab some colored paper, scissors, tape, and the neighborhood kids to create these fun, patriotic chains. This is a cute way to decorate your deck and is really inexpensive to boot!
WREATH
Greet your guests with a patriotic wreath on your front door. There are many different ways to put together a festive door decoration, but since the main material is cupcake liners, this wreath is quick to make and budget-friendly!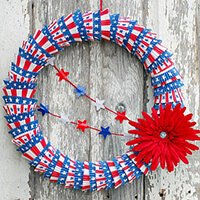 FLAGS
If you can pour gumballs into a jar, you are all set for this festive centerpiece. This is a super simple craft that you can do in less than 30 minutes. All you need is a glass vase, some red, white and blue candy and a few flags. Quick, easy and 100% patriotic!
Make your Fourth of July celebrations truly star-spangled this year! Now that you have your cookout planned and the decorations in place, be sure you have something summery to wear to the party.
Upcoming Events
LIVE ON HSN
Mark your calendar and tune-in to HSN on Saturday, July 23rd when I will share my latest collection live. Remember, you can shop Antthony designs online at HSN.com or www.AntthonyOriginals.com anytime 24/7. All of my designs come in petite, missy and women's sizes, so there is something here for every woman.
Saturday, July 23rd
6am – 7am
7am – 8am
1pm – 2pm
2pm – 3pm
8pm – 9pm
9pm – 10pm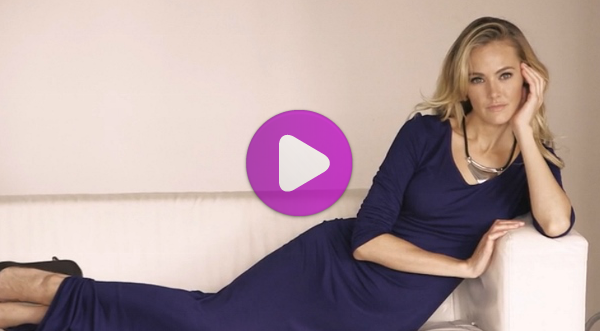 [really_simple_share]