Making the transition from day to night should be as simple as switching accessories or adding a dab of lipstick. With all of my designs I consider their versatility and really try to maximize how my tops can be worn, no matter the event or time of day. I want all my ladies to invest in classic pieces that will easily transition from day to night, in a smart way.
The Antthony Tropical Oasis Getaway 2 Pack Tunic and Wristlet are fun, colorful and make transition between seasons easy! Not to mention they are great for both work and play.
The Antthony Giggle Brook Knit Asymmetrical Caftan is another example of a summer top that works equally well during the day as it does at night. It is an ideal addition to any woman's wardrobe because it can be paired with so many different bottoms. You can wear it with a great pair of jeans, tights or a flirty skirt to create multiple looks. It's modern, classic and beautiful.
Learning to plan your outfits ahead of time is a lifesaver when you're constantly on the go. Pairing main pieces that you can easily take from day to night is a great way to get more of a bang for your buck too. The Antthony Keona African Moon Knit Leggings and Antthony Tropical Oasis Getaway 2-pack Tunic and Wristlet shown here would look great on their own, or you can add the Antthony Rainy Mist Chiffon Jacket with Fringe for a totally different look. The neutral colors give it even more day-to-night appeal.
Choosing great anchor pieces like the Antthony Norwegian Glacial Fiord 2 piece Harem Pant Set or the Antthony Jewel of the Sea Knit Pant Set shown below make switching looks easy. All you need to do to go from work to play is change shoes or adjust your accessories in order to dress it up or down. Have fun mixing and matching bold summer colors!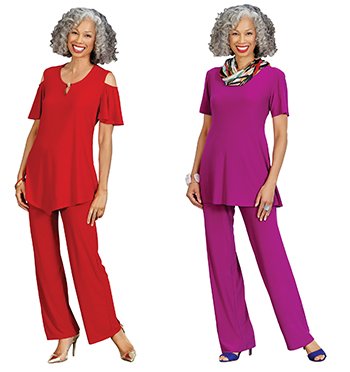 There are many ways to take a look seamlessly from day to night, but simplicity is the key. Don't underestimate the power that a quick shoe change or adding accessories can have on updating an outfit, especially if you're sporting classic pieces. The Antthony Lotus Harper Knit Top is more for a casual day look, but when paired with a denim jacket and some heels it becomes perfect for happy hour or an early dinner.
To get any of these tops, or to find similar classic pieces, you can shop Antthony online at HSN.com or www.AntthonyOriginals.com anytime 24/7. All of my designs come in petite, missy and women's sizes, so there is something here for every woman.
Upcoming Events:
For a great deal, be sure to shop the Today's Special tomorrow, on Thursday, June 25th when HSN will feature an Antthony design as their best value of the day. Shop smart and build a wardrobe with classic pieces!
Antthony's Today's Special
Thursday, June 25th
12am-1am 1am-2am 3am-4am 8am-9am
12pm-1pm 3pm-4pm 4pm-5pm 8pm-9pm
Then be sure to tune-in to HSN Network on Sunday, June 28th when I will share my full Summer Rhapsody collection – live. I will be there to help you find the best outfit for your exotic summer vacations so you can look good while having fun in the sun!
Antthony's Summer Rhapsody Debut
Sunday, June 28th
6am-7am 7am-8am
7pm-8pm 8pm-9pm
[really_simple_share]