Ladies, while we often think of fast food restaurants as a place where harried parents feed their kiddos a quick bite for dinner on the run, the fact is one third of adults in the U.S. pop into fast food chains three times a week and sometimes more. The thing is – if you know what to choose, you can get a delicious healthy lunch that is not a simple salad with dressing on the side. Obviously that salad is a healthy choice, but most of us don't want to eat it every day for lunch and dinner – we crave variety!

Sometimes, even when we are trying to lose a few pounds, we just want to enjoy a juicy grilled burger, a gooey slice of pizza, or a bit of Mexican spice, right? This week, we're talking about healthy, lower calorie sink your teeth into yummy fast food delights!
Let's start our healthy fast food adventure with that a juicy burger that's a mere 260 calories! Surprised? Well, that is the calorie count on the juicy Burger King Whopper, Jr. It boasts 10 grams of fat and 16 grams of protein and when topped with fresh veggies like tomatoes, lettuce, onions and pickles, skipping the cheese and mayonnaise, adding ketchup or mustard, you'll only be eating 260 calories. Oh, and if you can enjoy it without the bun, that's over a 100 calories less, right off the top!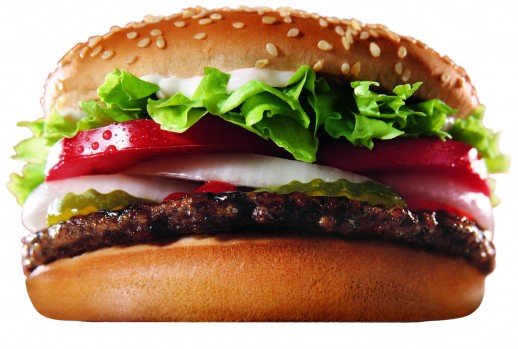 There aren't very many who don't love Chick-Fil-A Chicken, whether a sandwich or nuggets, it's virtually perfect every time – but it is still fried and that isn't always the healthiest option. Instead of fried, how about a delicious New and Improved Chick-fil-A Chargrilled Chicken Sandwich with only 5 grams of fat and 30 grams of protein, this flavorful grilled sandwich hits the spot! Served up on a toasted multi-grain bun with green leaf lettuce, sliced tomato, and honey roasted BBQ sauce, it comes in at only 320 calories.
Pizza is typically left off the healthy foods list when you are trying to shed a few pounds or maintain your weight, after all its dough topped gooey goodness can't be on any weight loss plan. But how about this – Pizza Hut's Thin 'N Crispy Veggie Lovers Pizza (2 slices of a 12-inch Pizza) comes in at only 360 calories with 12 grams of fat and 16 grams of protein. Not at all an unhealthy choice for your lunch enjoyment!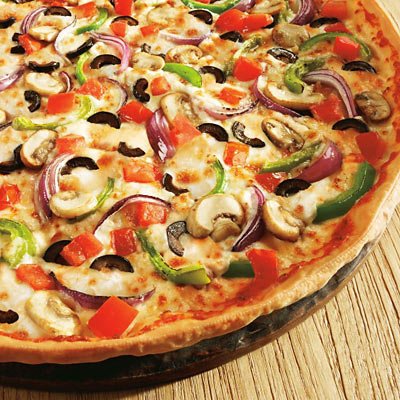 Let's head to Chipotle Mexican Grill now for some "Food with Integrity." Chipotle's options allow you to create your own Salad or Burrito Bowl, without adding in the extra calories from a flour tortilla (300 or so calories) and still enjoying all the spice of Mexico. Today's selection a barbacoa salad built with romaine, barbacoa, salsa, black beans and fajita veggies total only 335 calories, 8.5 grams of fat and 33.5 grams of protein. This is not your typical salad but a salad topped with barbacoa – tender, juicy beef, spiced to perfection.
The last healthy lunch option on our menu today is a secret. SHHH… It's the Panera Bread Power Chicken Hummus Bowl from Panera's Hidden Menu. It features Panera's antibiotic-free chicken topped with cilantro jalapeno hummus on a bed of baby spinach, diced tomatoes, cucumbers and red onions. Splashed with a squeeze of lemon and freshly chopped cilantro, this bowl of delectable goodness is 330 calories, 33 grams of protein and only 13 grams of fat. All I can say is "Yum."
So, ladies, where shall we go to lunch? Share your healthy fast food choices with me today; I'd love to hear from you! And don't forget to join me for spring wardrobe shopping at www.AntthonyOriginals.com or Live on HSN!

[really_simple_share]