With the days getting shorter and the temperatures beginning to drop, you may be looking forward to being able to layer again. This season, don't just layer with your favorite fall scarves and jackets, but with eye makeup, too.
The biggest message for the fall 2015 season is: MAKE A STATEMENT! Whether it's about vibrant eye makeup colors or creative takes on the classic eyeliner look, it's up to you to create your own standout theme this season. Anything goes! Here are a few trendy fall eye makeup looks to give you inspiration, paired with some of your favorite Antthony outfits from the Highlands Collection.
BLUE IS BACK
Pair your minimalistic, chunky fall knits and turtlenecks with statement blue shadow. Blue eyeshadow may seem a little crazy and '80s at first, but you can control how bold the color gets, so go for it! After all, girls just want to have fun.
PEACHY TONES
Peachy eye makeup is the perfect summer-to-fall transitional look — especially if you're not quite ready to go full-on broody in dark browns and berry hues. Wearing this color on your eyes will draw in autumnal tones, without being too heavy.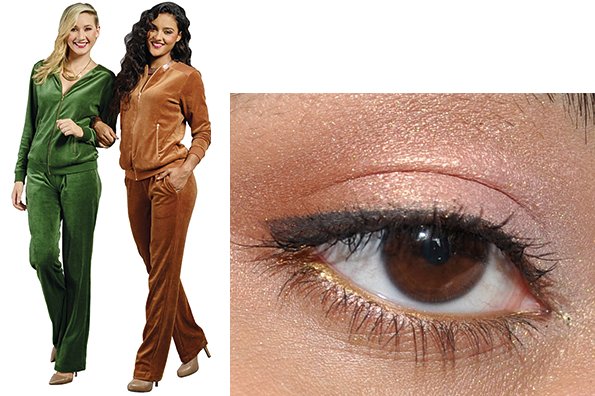 RAINBOW EYE
If you're feeling a little daring, combine two or three hues of shadow to create a bold rainbow-like eye. Play with some bold and intriguing palettes to came up with a lovely look all your own. It is guaranteed to make a big statement this fall.
GREY
The use of the grey color for liners and shadows gives a softer look to the smoky eye. It also offers a more ethereal feel and lightens up darker wardrobes. It is pure loveliness and works for both day and night.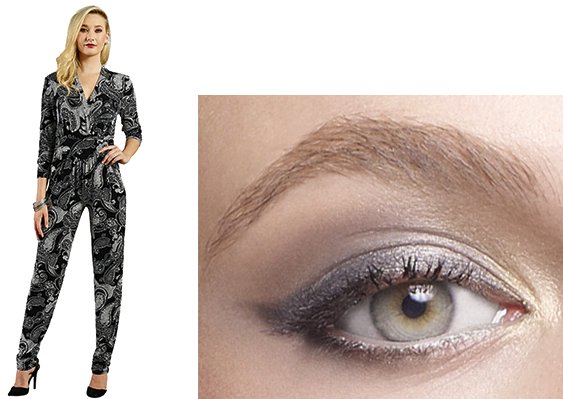 METALLIC & SPARKLE EYES
Metallic shadow options can range from silver to bronze to rose gold. Pick your color of choice and use an eyeshadow brush to fill in from the lash line to the crease. Then dial it up a notch using a glitter-based shadow for maximum pizazz.
GO NATURAL
Minimal products or neutral hues create an entirely natural look. Try some terra cotta lids products or simple matte shadows that bring in a touch of pink for a fresh and feminine feel. Less is more here, so tread lightly and show your natural beauty.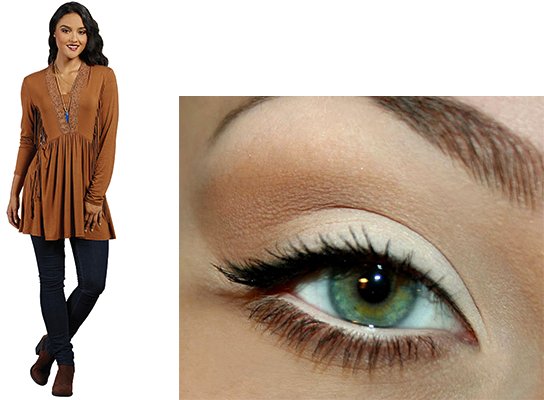 EYESHADOW 101
The basic concept of any eyeshadow design is to shade it in well-blended progression of light to dark colors. Keep in mind:
Light colors will highlight or emphasize shallow areas.
Dark colors will recede or minimize fuller, more prominent areas.
Start with a small amount of color since it is easier to add more eyeshadow than to remove it.
Two-Color Design
The goal of this classic, common design is to apply a lighter eyeshadow color to the lid area and a deeper color in the crease slightly blending it upward.
Using a large eyeshadow brush apply the lighter color to the base of the lashes and blend all the way up to the brow.
Next, use a crease defining brush to apply the second shade in the crease, blending up and out toward the outer corner of the eye along the edge of where the brow bone begins.
For a softer, more diffused effect after crease color is applied, use a blending brush without any eyeshadow and blend using soft circular motions along the outer part of the crease.
Three-Color Design
This design builds on the two-color design, but adds a third, darker color for shading the outside corner of the eye.
Follow the directions for the two-color eye design above.
Once that is done, use a crease defining brush to apply the third shade to the true crease area.
When applying color in the eye's crease, be sure to blend out and slightly up rather than following the downward curve of the eye.
If you are still feeling unsure, visit YouTube and do a quick search, as there are many different tutorial videos for applying eye makeup. Then, practice, practice, and practice some more. Make mistakes, be bold, and have fun. At the end of the day just be confident in yourself and let your true beauty shine through. After all, it's just eyeshadow, right?

Upcoming Events
Mark your calendar and tune-in to HSN on Saturday, November 28th at 5am, 6am, 7pm and 8pm when I will share my favorite looks to give as gifts this season. I look forward to sharing my designs with you and creating your wishes and wants list for this holiday. Whether for yourself or as a gift, this collection is sure to be your one-stop-shop for the women in your life this year.

Antthony's Gift of Giving Collection Debut
Saturday, November 28th
5am – 6am
6am – 7am
7pm – 8pm
8pm – 9pm
[really_simple_share]