There are many types of plus size women including both tall and shorter full figures. Each one of you has a different body shape that requires a different set of styling and clothing strategies to look your best. Here are a few tips to help you embrace your curves in style.
Your main focus when buying clothing is to create a trimmer silhouette that makes the eye go up and down, instead of side to side. Vertical accents help achieve the appearance of well-balanced body proportions and can help you look leaner and taller. The Antthony Lotus Harper Knit Top or the Antthony Enchanted Mermaid Marsh Knit Dress are both good examples of a piece that will elongate your frame.
I know how tempting it is to hide your body in layers and oversized clothes, but they'll only make you look bigger. When you have a piece that fits great, nothing will look lumpy. Do not be satisfied with shapeless oversize outfits ever again. Find clothing styles that highlight best your fuller shape and disguise any curves you do not prefer.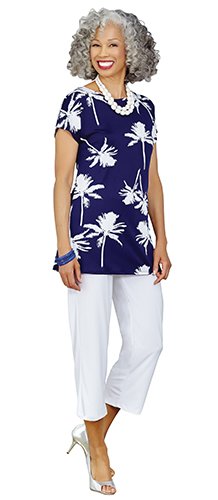 One of the best ways to look slimmer is to wear dark or light colors in the same nuance from top to toe, like the Antthony Norwegian Glacial Fiord Harem Pant Set or the Antthony Sitting on the Dock of the Bay 3 Piece Knit Blazer, Tank with Printed Chiffon Scarf Wardrobe. Then finish off your monochromatic outfit with a bright color accessory to add interest.
Go for knee-length (or shorter) skirts and shorts. If you have muscular legs avoid garments that extend right on the thickest part of your legs – your calves. It brings attention to this area and can visually make you look stubby! The Antthony Tropical Oasis Getaway 2 Pack Short and Crop Pant is a great example of a tailored look that is ideal for summer excursions.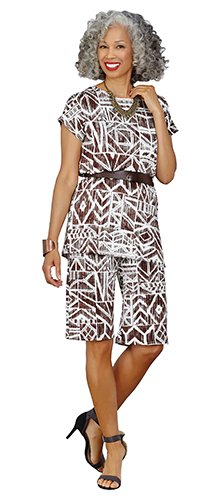 Prints can be precarious for women with curves, but they can make a great statement when paired with a bold vibrant solid. A good example of this is the Antthony Tropical Oasis Getaway 2 Pack Tunic with Wristlet when paired with the floral Antthony Norwegian Glacial Fiord Harem Pant Set. This well proportioned silhouette is ideal for any size woman.
Whether you like or dislike having a plus sized, plump, voluptuous, full figured body, it's a must to clothe it for it's current shape and size. Whether you plan on losing weight sometime soon or want to stay how you are, have the confidence to feel sexy and gorgeous in your skin and garments. Find fashion items that make you feel pleasant and gorgeous inside and out.
Remember, all of my designs come in petite, missy and women's sizes, so there is something here for every woman. Shop Antthony online at HSN.com or www.AntthonyOriginals.com anytime 24/7 and find a comfortable and body appropriate style that is right for your body.
Upcoming Events:
For a great deal, be sure to shop the Today's Special on Thursday, June 25th when HSN will feature an Antthony design as their best value of the day. Shop smart and build a wardrobe with classic pieces!
Antthony's Today's Special
Thursday, June 25th
12am-1am 1am-2am 3am-4am 8am-9am
12pm-1pm 3pm-4pm 4pm-5pm 8pm-9pm
Then be sure to tune-in to HSN Network on Sunday, June 28th when I will share my full Summer Rhapsody collection – live. I will be there to help you find the best outfit for your exotic summer vacations so you can look good while having fun in the sun!
Antthony's Summer Rhapsody Debut
Sunday, June 28th
6am-7am 7am-8am
7pm-8pm 8pm-9pm
[really_simple_share]