What better month than November to get in touch with warm-fuzzy feelings of gratitude? Always and every day, we're incredibly thankful that we have such awesome fans like you to support us, encourage us, and above all… inspire us!
That's why we're dedicating the first post of the month to you, our amaaaaazing fans! We're shining the spotlight brightly on YOUR top picks from our exclusive collaboration with HSN.com, available now and flying off the virtual shelves fast!
Spotlight on… outerwear!
With temperatures on a steady decline, it's no wonder you chose the cozy Alix vest as one of your favorites! Key to its versatility is its reversibility, able to go from shaggy faux fur to glossy, printed satin in less time than it takes to snap and say, "You look fabulous."
We also love to see you're keeping your edge with the Inessa studded moto jacket, a lightweight denim twill with stretch, metallic studs, and classic cut that flatters every figure.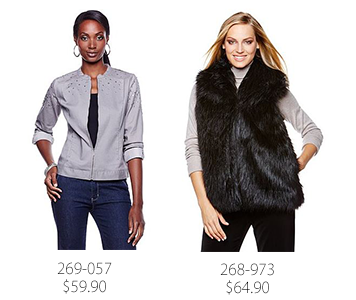 Spotlight on… tops!
From stunning to simple, your favorite tops have all the style bases covered. Starting on the stunning end of the spectrum, the Mayrse embellished top and tank is catching your eye with its crochet detailing, delicate glass beads, and belled sleeves. (Oh, and did we mention that it's made of chenille-soft, super-cozy fabric? Absolutely delicious.)
Midway between stunning and simple, you fell for the sassiness of our Constance big chiffon shirt, a longer-length design with slim, 60s-inspired cuffs and side slits that add OH-so-much movement.
Last but not least—and simple without losing its spark—is the Hudson embellished tee, done up to dazzle with a Celtic-inspired cross print and decorative scatterng with a collection of eye-catching stones. The fabric is super-soft, the cut is classic, and the possibilities for styling it? Endless.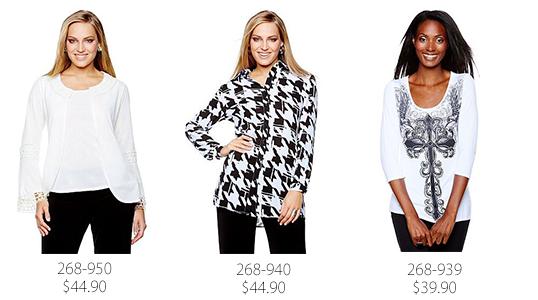 Spotlight on… sets!
We're not at all surprised to see that our sets are getting some serious love!
Our Hudson casual jog set is made using lightweight stretch ponte fabric, which keeps wrinkles at bay and looks phenomenal to boot. The elastic-waist pants are cut with a tapered leg, and slim mesh panels trace the princess seams on the jacket up top.
On the dressier side, you're giving a thumbs up to the Josette caftan and pants set—and we're sure it has everything to do with the subtle onyx accents on both the statement-making sleeves and comfortable-as-can-be bottoms. Who doesn't love a little extra bling?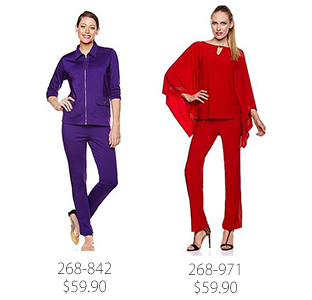 Spotlight on… dresses!
Proof that maxi dresses know no season, y'all are still in love with these gorgeous gals even as winter knocks on our door! The Naomi dress is oozing with that unmistakably boho appeal, and the pattern is specially placed to visually slim and flatter your figure from every direction.
A little more classic but still just as eye-catching, the Margot maxi has THE most gorgeous embellishments on the neckline—and not just the front, either! The magic swoops around and stuns in back, too.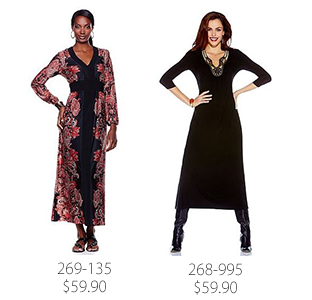 Come shop with us now at HSN.com, and don't forget to tell us all about your shopping adventures on our Facebook page!
[really_simple_share]