Did we just put a smile on your face by simply making you think about spring? You are welcome for that, but we promise you will be smiling even bigger when you see the spring line that we have for you. Oh ladies, it is absolutely divine! So divine, in fact, that it is going to be painful to wait for winter to be over so that you can slip these beauties on and go skipping happily down the street on a warm, spring day.
It's All About the Patterns
What would spring be without bright, beautiful patterns to wear, right? If you agree, you are going to adore the amazing patterns that our spring line has for you. If you love bright, geometrical patterns, the "Daphnis" Maxi Dress with Bolero has your name written all over it! What we bet you will love most is the ability to wear this dress in almost any season – all you have to do is layer up! Plus, what's not to love about a set that is made for you? No thinking and you get a beautiful outfit? Sign me up!
Do you want to know the best thing about these beautiful dresses? Take a look – you do not need accessories! It is all done for you. Simply put your hair up in a chic bun, slip on your sunglasses, because we know the spring just has to be bright and shiny, and you are well on your way to your own runway fashions.
Are you more of a boho-chic girl? Then sit down, because we have the perfect top for you! The "Aberdeen" Status Blouse and Matching Tank speaks for itself. You can go from casual to dressy in the blink of an eye. Simply change your pants from denim to shimmery leggings and you have got it all! Again, this beautiful set is completed for you – of course you can get a little daring if you please and mix and match, or just sit back and relish in your impeccable taste and wear the two pieces together. It's ladies' choice this spring!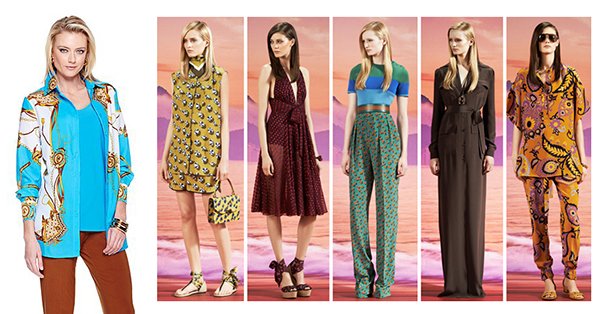 Guess what – there's more! Yes, we have even more beautiful prints for you. These prints are, shall we say, wild? Look at the beautiful leopard print that is just patiently waiting for you to snap it up! Do you want something a little more classic? The black/white print screams sophistication for the office or a hot night on the town – it is such a versatile piece!
We cannot wait to hear what you have to say about these beautiful spring prints! They promise so much excitement after a long, dreary winter. Get excited about spring with our amazing new prints and do not forget to head over to Facebook and let us know what your favorites are – we love to know what you are wearing. Don't forget ladies – think spring!
FABULOUSLY FUTURISTIC STYLE
Welcome to the past, present and future of style combined into one fabulously forward-thinking collection from Antthony. These retro-futuristic designs blend vintage shapes with modern texture and patterns for a warp-speed update to your wardrobe. All the time travel trends indicate these are the looks that you never knew you always wanted – until now!
We invite you to celebrate 20 years of great design by Antthony, by tuning into the upcoming HSN shows. Throughout the year they will be featuring special pricing on the most cutting-edge designs and showcasing the best deals of the season. So let tomorrow's styles be yours today when you log in to HSN.com and look for Anthony under the fashion tab, where you will see more looks than ever before. All designs fit women from size 4 to 26W. The future of style begins now!
[really_simple_share]