With baggage fees, missed connections and the risk of lost bags, checking your luggage is often more hassle than it's worth. So, let's talk about how to travel the carry-on way!
Whether it's a traditional suitcase, an oversized duffel bag, or a travel-friendly backpack, the right carry-on luggage should last you for years, have the best balance of size to capacity, features, and price. Oh, and don't forget – it must be fashionable!
For all you jet-setting women, here are some stylish luggage options that will appeal to a variety of budgets and tastes.
VINTAGE FUN
Travel in style with a fashionable and vintage looking carry-on like this one from Nicole Lee. The attractive upright features are accented with a gorgeous leopard print and stud embellishment for durability. The best part about it is the fun, old school design, which will get noticed as you are walking through the airport terminal.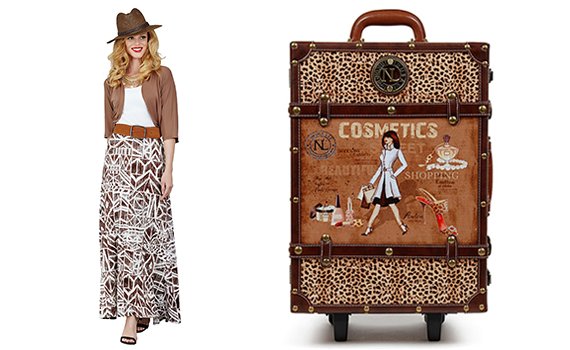 SPLASH OF COLOR
Luggage is always easier to find when it looks distinctive, and this eye-catching bag by Diane von Furstenberg will definitely stand out in a crowd. The splash of color is great for showing a little bit of your personality and lends an element of fun to any adventure.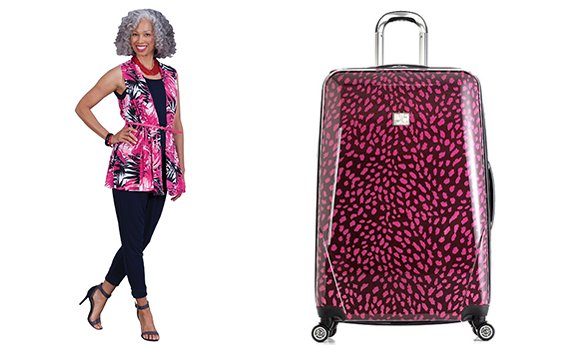 ULTRA-MODERN
Travel in ultra-modern style with this polycarbonate carry-on from Tumi. This lightweight suitcase is not only easy to carry, but is equally as tough as it is light. Featuring molded protective bumpers around the edges; this super-sturdy carry-on will keep your items, even the most fragile pieces, safely guarded.
DURABLE & EXOTIC
This versatile, genuine leather bag by TIDING is ideal for an array of traveling needs. This bag is the perfect combination of durable, practical and affordable design for the woman who is constantly on the go. You'll be ready for a quick weekend get-away at a moments notice.
WEEKEND WANDERER
Many travel experts agree that rolling is superior to folding. Tightly rolled clothes take up less space than folded ones. Plus, they're less prone to getting deep wrinkles from fold creases. This duffle bag by Nila Anthony is just large enough to carry all of your essentials, yet small enough to be travel friendly.
As a rule of thumb, you probably don't need to pack as much as you think. A small number of clothes can be mixed and matched to create a different look each day. When choosing your clothing for a trip take a look at the fabric and consider quality, thickness, weight, wrinkles, transparency, and texture. Your ideal travel clothing should be durable, takes up minimal space and matches your style and optimal fit.
For additional fashion tips and Antthony recommendations on what to pack when you travel, check out these related diary posts:
Dresses That Travel Well
Transition Tops That Take You From Day To Night
Be sure to shop for your next Antthony travel outfit online at HSN.com or www.AntthonyOriginals.com, anytime 24/7. All of my designs come in petite, missy and women's sizes, so there is something for every woman. They are great for traveling women who want to look good on the go and pack light for easy carry-on luggage!

THE HIGHLANDS OF SCOTLAND
Our World Expedition tour has stopped in the Highlands of Scotland, where classic fashions reflect a commitment to superior tailoring and traditional cable knit sweaters are always on trend.
Each design has a relaxed shape for maximum style and every silhouette is fitted for an easy, no fuss approach to dressing for the modern women who is constantly on the go. The results are an American sportswear collection with a classic Scottish twist, perfect for the change of season.
As always, thank you for shopping Antthony on HSN, and remember you can shop 24/7 online at www.AntthonyOriginals.com. All of my designs come in petite, missy and women's sizes, and the versatility and exceptional value of this collection offers something for every woman's wardrobe.
Be sure to tune-in to HSN on Sunday, September 27th at 8am, 2pm and 3pm when I will share my best Scottish-inspired looks for the season. You can also find Antthony's Today Special on Wednesday, September 30th at 12am, 1am, 5am, 7am, 11am, 12pm, 4pm, 5pm or 10pm. I look forward to sharing my designs during the live premiere of the Antthony Highlander World Expedition Fashion Collection!
One Love,
Antthony
Upcoming Events:
LIVE ON HSN: Antthony's Today Special
Saturday, September 27th
8am-9am
2pm-3pm 3pm-4pm

September 30th 2015
12am-1am 1am-2am 5am-6am 7am-8am 11am-12pm
4pm-5pm 5pm-6pm 10pm-11pm
All Times Are Eastern Standard
[really_simple_share]