What's that? You say you heard some sniffling?
Nope, that's definitely not the sniffles of sorrow that come with packing away our maxi skirts, flip-flops, tank tops and sun dresses for the season.
OK, OK, we can't lie to you. We're sniffling (just a little) as we bid adieu to our summer staples, folding them away to hibernate for the next few months.
There's nothing like some new outfit inspiration to turn those sniffles into smiles, though! Here's what we've come up with, in lieu of wiping away our tears while gazing wistfully at the summer clothes we just put away.
(We're done sniffling now. Promise.)
If your daytime summer staple outfit was tank top, shorts and flip-flops… flip to fall with plaid, a sweater, and boots!
No pattern celebrates fall like bright, colorful plaid! When it comes to this perennial pattern, you have a plethora of styling options to choose from. A classic look is pairing an open plaid over a solid tee; white's always a winner, but any color that complements the palette of your plaid makes an equally genius style choice. This look can always benefit from the addition of a chunky infinity scarf, too, if the weather's getting extra chilly in your neck of the woods.
A second option for plaid is layering a sweater—be it a simple V-neck, pullover sweater vest, or even a cardigan—over the top. Instant style upgrade: Flip back the cuffs of the plaid over the cuffs of the sweater or cardigan for a quick and easy way to add even more color. You'll look like a total layering champion!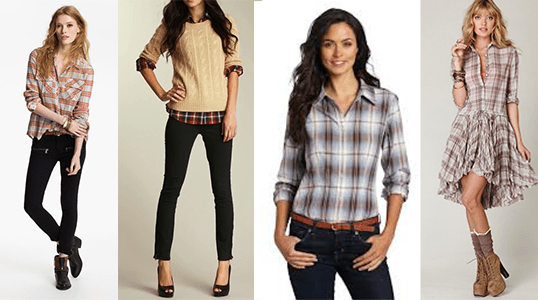 If your date night summer staple outfit was a maxi dress, sandals and a scarf… flip to fall with a sweater dress, tights and booties!
If you've yet to experience the cozy wonders of a sweater dress… oh, girl, you are IN for a TREAT! We're big fans of the dresses with "slouchy" necklines, especially; they have a way of invoking an extra snuggly feel, which is perfect on days when the air feels extra icy.
If you choose a solid sweater dress, your options for tights are endless in terms of color, pattern and texture. Some of our favorite finds/trends this year are cable-knit sweater tights, Nordic- or Aztec-pattern tights, and brightly colored tights that really pop against more neutral-colored fabrics and boots.
If you're in a patterned sweater dress, be careful not to "over texture" your outfit by adding more pattern or texture below. Look for solid tights in colors that complement your dress' pattern, or pick a less noticeable color from within your dress pattern and find tights that match to really bring it out! (It sounds kind of crazy, but trust. It works!)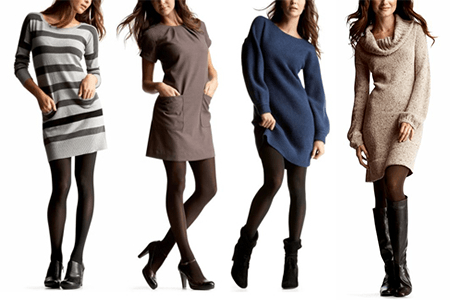 If your weekend summer staple outfit was a floppy hat, linen crops and tee… flip to fall with a knit beanie, dark denim, and soft sweater!
Now that the heat is on hiatus, it's the season of deliciously cozy hats! (They're equally great for keeping bad hair days under wraps, too.) Don't shy away from the ever-trendy slouchy beanies; done right, they add the perfect touch of laid-back flair. In brighter hues, they're a fun, quick way to finish an outfit with minimal effort.
As for dark denim… man, oh man, have we missed it! Sure, it can still be rocked during the summer, but then you end up about 50 degrees warmer than usual the second you step into the sunshine. Now that it's cooler, dark denim goes all day strong without batting an eye. (An added bonus? It's slimming on every figure!)
When it comes time to pick your sweater, especially if you're pairing it with dark denim, anything goes! Cozy into cable-knit for instant warm fuzzies; luxuriate in your favorite classic cashmere to feel pampered and pretty; or pick a simple V-neck and dress it up with a lightweight scarf.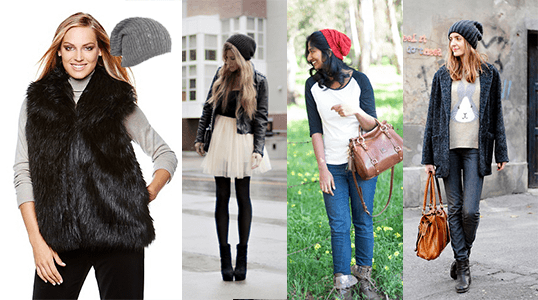 As always, we adore seeing YOUR outfits and hearing how our ideas worked for you! Stop in on Facebook and tell us all about your favorite fall looks, or post pics of how you're working in the season's newest pieces!
[really_simple_share]