The holidays are almost upon us – can you believe it? Have you made your list and checked it twice? If you left yourself off of that list, then you are not done yet! What are you going to wear to your fabulous holiday fetes? Are you not sure? Darling, it is time to think of yourself and get yourself the glamorous holiday outfit that you so deserve! What is your style? Do you prefer sparkly, romantic or a little bit of both? Don't worry my dear, we have it all!
The Holidays Equals Sparkles
What better way to show off your fabulous figure and your jolly mood than in a sparkly outfit that resonates your excitement? Our favorite pick for sparkle and shine is the "Paulette" Sparkle Twofer Top! What's the best part about this beautiful top? It's a two-for-one deal! It takes all of the thought out of finding something to go over your sequins and sparkles – it's a given!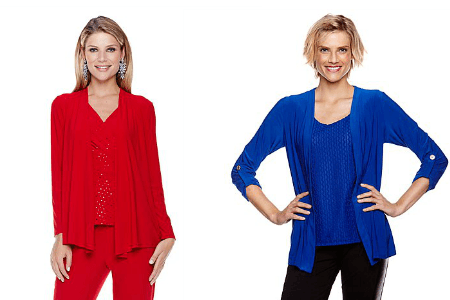 Do you love the twofer, but want to tone it down just a smidge? We also love the "Amelie" Twofer Cardigan Top! It offers the perfect amount of romance with a flattering fit from top to bottom. We love the addition of the buttons on the sleeves, allowing for versatility between long-sleeve and ¾ sleeves for your ultimate comfort. You can wear either of these twofers with your favorite skinny jeans, skirts and of course your amazing heels for the perfect holiday ensemble.
Studs Have More Fun
Do you want to shake things up this holiday season? Wearing studs is definitely the way to do it and there is no finer way than with the "Dominique" Studded Pants. They offer a little edge and a whole lot of glamour to make sure that every head turns when you walk into the room. Made from ponte-knit, these pants are sure to go the extra mile, making sure that you are stylish and comfortable all night long. Of course, these pants beg to be paired with your favorite embellished stilettos and sequined top for over the top sparkle and shine!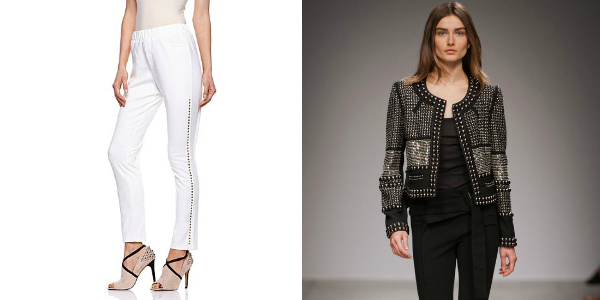 Have it all in One
Sometimes the holidays have you rushing so much that you don't have time to give a second thought to your outfit. In those cases, we have the spectacular pairing of the "Josette" Caftan and Pants Set. Guess what? The work is done for you – it is a complete outfit and a flattering one at that! All that you have to do is add your favorite heels, a swift up-do and a dash of makeup and you are holiday ready!
Now my darling, we have done the hard work for you – getting your holiday outfits ready in a snap. All that you have to do is go out there and have fun! Enjoy the holiday season and know that you are going to be the best dressed one in the room! Do not forget that we want to hear about your fetes – every detail! Head on over to Facebook and share our outfits and celebrations with us; we can't wait to hear from you!
Well there you have it fashionistas! Your holiday shopping just got so much easier. Come shop Antthony's designs on HSN.com. We won't tell if you do the "one for you, one for me" shopping! Have fun and visit us on Facebook to share your finds!
[really_simple_share]