With mere weeks until Thanksgiving, we know your schedule is packed. Between planning travel (or planning the big meal, you industrious host, you!), getting an early start on Christmas shopping or plotting your Black Friday shopping route, there's not much room to squeeze in anything else, let alone plan an outfit.
Don't worry, darlings! With help from our exclusive collection on HSN.com, we've hand-picked some fantastic pieces that ensure you'll look fabulous, as well as keep you comfortable after treating yourself to all your holiday favorites. Chic style with room to spare? We've got you covered!
Start here…
When eyeing the perfect tops to create head-turning Thanksgiving ensembles, our eye was on style just as much as comfort; after all, a little extra room to move never hurt anyone!
That's why we adore the Alessa tunic, perfect with everything from a long skirt to skinny jeans, and cut with an Empire waist, handkerchief draped bodice, and subtle pleats.
Equal parts sizzling and sparkly, the Celine top is undeniably festive in stretchy eyelash mesh, fabulously festooned with rows of ruffles and splashes of sequins throughout. Looking for a bit of subtle sparkle instead? Order up Paulette, a "twofer" top that layers a comfortable, looser-fitting cardigan over a pleated, wrap-front interior top with a scattering of clear sequin dots down the front.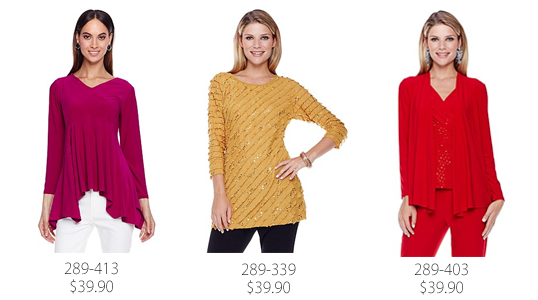 … then mix and match!
As we mentioned, comfort was key as we picked these Thanksgiving-friendly pieces for this special post! Our Adora denim pants are kissed with stretch for flex and fit, and feature gorgeous tendril-inspired embroidery winding up the front of each leg.
Better suited to a skirt? We're loving our Dionne, also blessed with the perfect touch of stretch in addition to the intricate embroidery dancing up each of the side panels.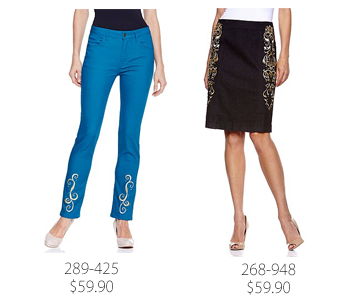 Or… choose a pantsuit!
What's easier than having a stunning ensemble already ready to go at a moment's notice? Having these three hand-picked for you from our collection, of course!
Meet the Cascade tank and pants set, a three-piece outfit including a cascade-front cardigan, metallic-sequin-studded tank with keyhole neckline, and elastic-waist pants with a classic straight leg.
Keeping with the sparkly theme, Luciana also rises to the occasion—beautifully, we might add! The ultra-forgiving top is designed with an empire waist, pleated bust and trapeze bodice, balanced by the full, straight-leg pants with comfortable elastic waist below.
For lovers of embellishment, the Celestine set boldly fits the bill! The eye-catching print shows off on both the front and the back, and the elastic-waist pants are cute with an always-flattering straight leg.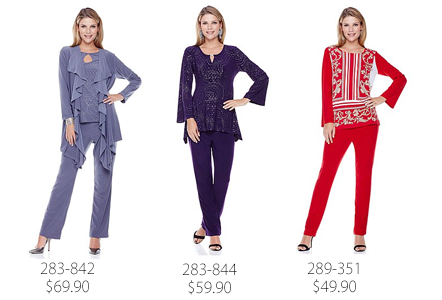 Shop these great pieces and more at HSN.com, available now and flying off the digital racks faster than we can tell you how gorgeous you look today! (By the way, are we friends on Facebook yet? If not, come find us… then tell us all about your outfit plans for Thanksgiving!)
Be sure to check out Antthony live on HSN November 24 & 25! Sunday, November 24 at 6 a.m., 7 a.m., 5 p.m. and 6 p.m. Monday, November 25 at 7 a.m., 8 a.m., 2 p.m. and 6 p.m.
[really_simple_share]