Being overweight doesn't mean you can't look amazing each and every day when you put on your clothes. All it takes is a little know-how and a healthy dose of confidence to look your best, so before putting on anything else, put on a smile!
Before we go any further about how to dress your best, let me remind you that looking good is not about the number on your clothing tags. First and foremost you need to think about dressing yourself in a way that makes you feel comfortable and shows off your features. Make the most of your curves, and remember, sexiness is found in all sizes!
KNOW YOUR BODY SHAPE
When you think about body types, don't focus on height and weight, focus on the shape of your body. Each of us is unique — and our bodies are, too!
For example, if you have a belly that you don't want to show off, you should wear tops or vests that are longer. A longer top like the Antthony Dunes of Sahara Hi-Low Chiffon Vest & Knit Top with Chiffon Scarf is just one look that can elongates your torso and makes you look slimmer.
Two other fun and versatile pieces that will make a big impact without accentuating your middle are the Antthony "Tropical Oasis Getaway" Knit Vest and the Antthony "Philippa" Reversible Jersey Knit Cardigan. Both are great for staying cool this summer and looking great every day.

ADD A POP OF COLOR
If you are a curvy woman you have probably have a wardrobe of black clothing. Sure, black slenderizes, but make sure you add a pop of color into every outfit so you don't look drab. Color will cheer you up and make you stand out. The Antthony Smooth Viper Summer Swing Shirt with Lace Insert or the Antthony "Dorphelia" 4-piece Knit Wardrobe with Cardigan, Blouse, Dress and Pant are both great ways to combine a black base with a bit of fun color.
When you know what colors look good on you, try using that color instead of black to add pizazz to your wardrobe. The Antthony "LaFonda" 3pc Wardrobe Knit Pant Suit is a perfect example of a monochromatic outfit that is figure flattering without being black.

THINK CLASSIC DESIGNS
The colors, cut and patterns you wear can draw people's eyes toward or away from your figure. Dark colors hide, while light colors and patterns highlight. So if you are top heavy, wear patterned pants, shorts or skirts like the Antthony Atosha Oasis Mirage Lace Insert Jersey Knit Top & Antthony Ulani Lush Island Life Jersey Knit Pant. People's eyes will instantly be drawn to your great legs.
Alternatively if you want to hide your bottom half, wear dark pants and a lighter top. Both the Antthony "Tropical Oasis Getaway" 2-pack Tunic with Wristlet and Antthony "Darla" 2-piece Asymmetrical Drape Knit Pant Set are great for a flirty look that works with a larger bottom. Remember to wear dark colors on your heavy parts and those parts will look smaller. Clean cuts and classic designs will go a long way to giving you an elegant appearance.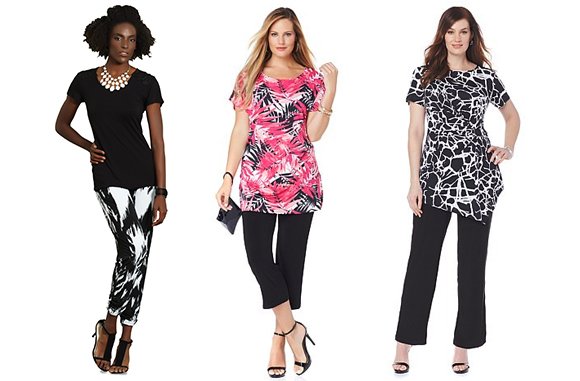 Remember, you can shop Antthony designs online at HSN.com or www.AntthonyOriginals.com anytime 24/7. All of my designs come in petite, missy and women's sizes, so there is something here for every woman.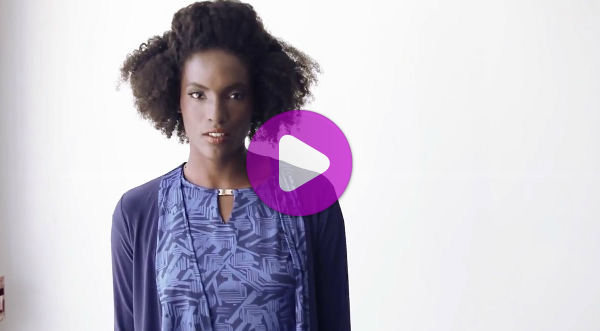 [really_simple_share]