Spring and summer are such busy times, but not so busy that we cannot get our latest fashion fix! When you feel as if you have no time to go to the hottest stores and boutiques, do not fret, ladies, you can still get the latest fashions. In fact, it is probably even easier to shop on the internet than in the store. You get to save time and shop even more! It is like window shopping from the comfort of your own home and at any time of day or night.
307-546
Antthony Connie Gail Chiffon Pleated Tiered Skirt
$59.90

297-414
Antthony Nancy 3-piece Cardigan, Tank and Pant Set
$59.90
So Many Fashions
Oh the fashions that you will find as you browse the internet! What are the benefits? First, the endless options! At the tip of your fingers you can have dresses, pants, skirts and sets. You can see what goes together and different ways to wear things. You can get fashion tips without talking to anyone; it just takes the click of a mouse. Are you unsure what to wear with that top you have your eye on? Take a look around and see how they show it on various models – then add your own touches and you have the perfect outfit! Are you eyeing a beautiful dress, but do not know how to wear your hair or what accessories to wear? Let the models that are wearing the fashions be your guide on every page that you find!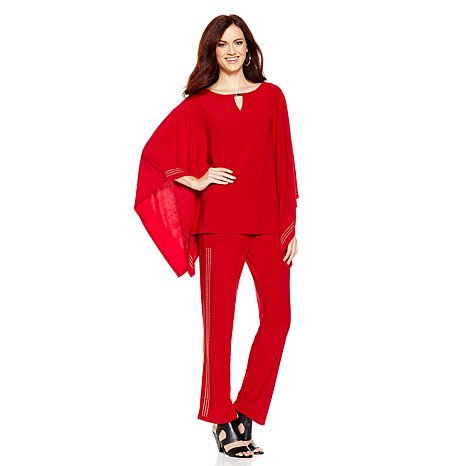 310-357
Antthony "Zaya" Embellished Caftan/Pant Set
$59.90
So Little Time
Today, honestly, who has time to go from store to store looking for that perfect boutique look? When you trust the internet for your latest fashion splurge, you can find that look and fast! Not only that, but you can also find the hottest trends. You might even find trends that you were not aware that were hot at the moment. Have you been itching to try the retro trends that are making their way this year? Check them out in all of their glory online and see what you like. Are you still not sure? Browse as long as you want; kick back and stay awhile or even leave and come back tomorrow. You might find that you love the fashions even more the next time that you come back.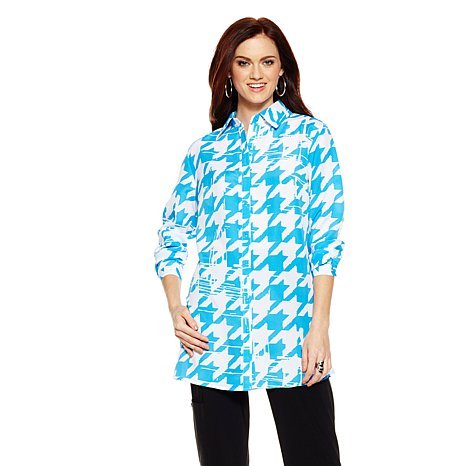 Antthony "Dinah" Houndstooth Print Shirt
306-781
$44.90
Let's Take a Look
Are you still not convinced that you can shop for clothes online? Let's take a look at the Antthony's Originals on HSN. Once there, you can search by clothing type, size, brand or even color! Does it get any easier than that? I know that you cannot do that in the store! This means whether you have your mind set on something or you are just browsing, you can find the look that you want in a matter of minutes or hours, depending on your mood and how much time you have. The beauty of it is, that you can take as little or as long as you like!
So let tomorrow's styles be yours today when you log in to HSN and look for Anthony under the fashion tab, where you will see more looks than ever before. All designs fit women from size 4 to 26W. The spring fashions begin now!
Fabulous 1950's Style for Today's Ladies
Are you ready to see more? Antthony Originals has the most exquisite spring line ready just for you! Get ready to feel amazing in a sophisticated, retro style that perfectly combines with today's styles and tomorrow's trends. When you see the new clothing line, you will know that this is what spring is meant to look like. Be one of the first to see our spring line and come celebrate 20 years of impeccable designs by Antthony Originals on HSN.com! You will not want to miss the fun!
[really_simple_share]