We've all heard the phrase "reuse, reduce, recycle," right? Well, gorgeous blog readers of ours, today we're putting that principle to use with the contents of your very own closets!
(Don't panic. We swear you won't even get your hands dirty.)
As fabulous as it would be to reload our closets each season with brand-new pieces, the reality is… hey, a girl's still got to eat. And pay the bills. And budgets don't always allow for a season's worth of new looks to move in with us every time Mother Nature changes her mood.
But here's the good news:
With a glitter-burst of creativity, a sparkling dash of bravery, and a willingness to step outside the box, the classic pieces you've already got in your closet can be transformed from "I never wear that, it's boring" status to "I wonder what ELSE I can wear that with" status.
Let's delve into our closets, find these three classic pieces, and make some magic!
How to reinvent… a sheath dress!
If any dress can be considered a perennial classic, it's the sheath—rocking it since, oh, ancient Egyptian times, and since transformed into a variety of cuts and styles for all occasions.
You normally wear it with… pearls and pumps, a cardigan, or simple belt.
We're reinventing it with… booties and leather, faux fur, or bold accessories.
It's time to invoke that sparkling dash of bravery we talked about, darling! With your sheath dress as a blank canvas, you're free to choose any form of style direction that speaks to you.
By adding a leather moto jacket and booties, you take your sheath to edgy new heights. With the addition of plush faux fur—be it a vest, a shrug, or fur-trimmed crop jacket—you're telling the world, "I'm not afraid to step outside of the box. It's cuter here."
And when you add in bold accessories—some favorites of ours are bejeweled bib necklaces, brightly-colored skinny belts, patterned tights, and statement earrings—you make the look distinctly yours.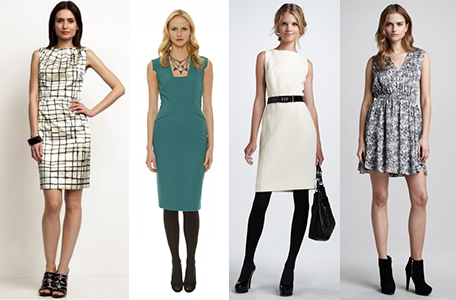 How to reinvent… a white button-down!
Crisp and classic, white button-downs are an absolute staple. These days, designers are amping up the shirt's appeal with new sleeve shapes, decorative buttons and the occasional pleat or two… but truly, nothing compares to the appeal of the original, clean, back-to-basics design.
You normally wear it with… dress pants, a pencil skirt, or khakis.
We're reinventing it with… leather and inventive layers.
Yes, we all adore a good cardigan for layering, but your button-down is begging for new layer-friends. We love the look of a crisp white button-down underneath a sleeveless dress—shift-like shapes tend to do the best—or, for an unexpected twist, layer your button-front with a sweater over the top of leather leggings! Add some booties or heels, and you'll look like you came straight off the runway.
Other fun options for breathing new life into your button-down include tucking it into a maxi, then cinching the waist with a wide belt; knotting the ends, adding a skinny belt, and finishing the look with rolled-cuff jeans; or triple-layering with the button-down as the base, a simple sweater over the top, and a slim-cut jean jacket as the final element.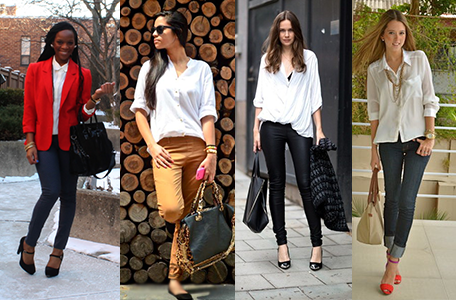 How to reinvent… dress pants!
Likely, dress pants are part of your 9-5 uniform at least once or twice a week—if not more. At this point, you've probably worn them about 100+ times… and now we've got some amazing ideas for the next 100+ wears. Here we go!
You normally wear them with… button-downs, sweater sets and blouses.
We're reinventing them with… rolled cuffs, bold belts, and suspenders!
What better way to draw attention to your cute footwear than with rolled cuffs? This trick works best on slimmer-cut dress pants; just roll that hem up a few inches and put your adorable booties or heels on display! Bam. Instant new look!
Also, try trading out your usual belt for one with a bright color, fun buckle, or even a little bit of glitter; if you keep the rest of your look refined, it's still completely office-appropriate!
Last, but not least, we suggest… suspenders! We know, it sounds crazy, but just look how cute they become when you choose a style that's more "fashionista" than "fifth grade school picture day". It's unexpected, and best of all, it's fun!
Keep an eye out for next week's post, when we're venturing into the wild, wild west… no "yee-haws" or spurs required.
[really_simple_share]