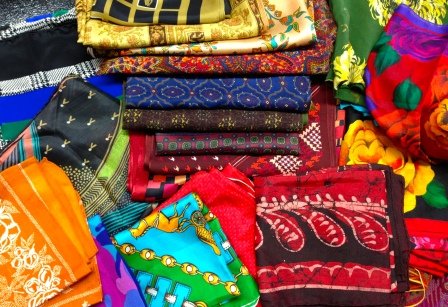 Never underestimate the power of a print.
There is nothing more lovely than seeing a person sport a colorful pattern… I'm "MAD" about prints and the effect they have on the soul… Having a gloomy day? Feeling lackluster? Throw on a fabulous scarf or a wonderful printed pant and watch your spirits soar.
I didn't appreciate prints until I was a student of Monsieur Yves Saint Laurent in Paris France. It was Monsieur Saint Laurent and his fantastic Moroccan inspired patterns and "Oh" the wonderful African textiles he would transport to silk chiffon and charmeuse…
I will never forget sitting in for his Spring 92 fittings and hearing him glee with excitement when a model came in wearing a tunic of silk faille, blazoned on this design was the most glorious colorful print with a tribal feel… I knew it then and I know it now… prints are powerful they can transport the wearer and the people that surround them to a place of happiness…
Every season when I work on my collection I make sure to include one fantastic tribal pattern as a way of thanking Monsieur Saint Laurent for that magic moment early in my career, if it wasn't for his excitement and his fantastic use of prints I probably would never have the appreciation I do for them today!
[really_simple_share]