There's a whole lot of love for our collection going on at HSN.com! Today, we're showing off a selection of our pieces that have achieved HSN's "Customer Pick" status, thanks to glowing four- and five-star reviews from our fans. From a perfect fit to a flirty vibe, here's what shoppers are saying about our collection.
Customer Picks: Tops
Our entire Mia collection has been celebrated, but no piece so much as the cardigan and tank set! A fan in California raves, "Very upscale looking! I wore to a surprise party with denim leggings, and I received many compliments," and a Florida shopper says it's one of the most beautiful tops she's ever bought.
The Zarema poncho is earning accolades, as well. Says a California fan, "I wore it to work Monday and got nothing but compliments!" and multiple reviewers also speak to the top's figure-flattering design and flirty vibe.
Another favorite is our Mya blouse, styled with those fun cut-out shoulders; it's so much of a favorite, in fact, that multiple reviewers commented to tell us they were planning to come back and buy more in different colors!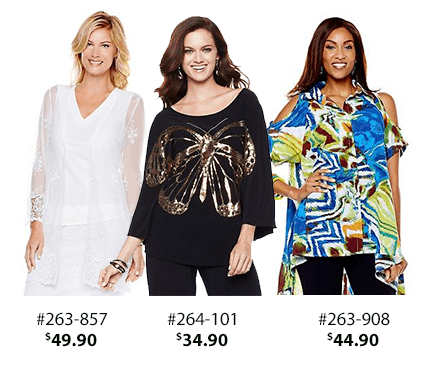 Customer Picks: Dresses
About our Carlita high-low maxi, one shopper from West Virginia writes, "I've worn this dress several times, and each time I do, I get loads of compliments. I feel like a goddess when I wear it." Other equally satisfied reviewers share the sentiment, talking about how beautiful the dress makes them feel and how forgiving it is on fuller figures.
The love is equally strong for our Hanna maxi dress, especially from two enthusiastic fans in North Carolina! One proclaims, "Absolutely GORGEOUS, need I say more?!!!" and another adds, "WONDERFUL LOOK…LOTS OF COMPLIMENTS!"
Another maxi that's winning over our fans is the Anita, described as a "sexy, packable, wrinkle free, wearable, FAVORITE!" from one shopper in Massachusetts, and "I adore this dress, and believe me, it was a head turner" from a California fan.
Customer Picks: Bottoms
Another member from our highly celebrated Mia collection, our knit pants with mesh score high marks for fitting well and looking elegant (thanks, fan in Oregon!) and in Washington, one fan has already made grand plans for wearing hers: "These pants are perfect for a summer night out on the dance floor and THAT is what I ordered them for. I'm going on staycation, and these pants are going too!"
The Erin embellished skirt is helping fans get in touch with their inner girly-girls. As a fan in New York writes, "I feel so feminine and pretty!" and in California, another fan agrees: "I am loving the 'lady-like' trend that is happening and this skirt fits right in with that style."
Proof that our embellished leggings are a hit? They're a customer favorite even in the middle of summer! Fans are raving about the fun "bling" accents, as well as the comfortable fit.
Visit HSN.com today to view the rest of our customer picks, as well as find some of your own. We'd love to hear what you think once you bring your very own Antthony Design Originals home, too!

[really_simple_share]