With summer already cresting its melting-hot midway mark (we can't believe it, either!), there's no better time for a quick closet refresh. One of the season's most versatile pieces? The maxi dress! If you haven't had a chance to visit and shop our exclusive collection at HSN.com yet, what are you waiting for? Here are our favorites, all available now… and flying off the virtual shelves fast!
Maxis that go from day….
Metal-tone, heat-set studs top the bodice of the Carlita, a design that capitalizes on the current high-low hem trend to beautiful results. Equally effortless in its elegance is the Briana, simply styled with a pleated bust and comfortably curved shoulder straps.
If you like to let a pattern do most of the talking for you, both the Josephine Louise—accented by a ruffled bodice, lace-up tie and flounced skirt—and the Karliana—a plentiful paisley with elastic-shirred waist for fit—have plenty to say!
When romance is the order of the day, fall in love with Juno; a fluttering, bias-cut design in airy chiffon, finished with long flutter sleeves for an even more ethereal look.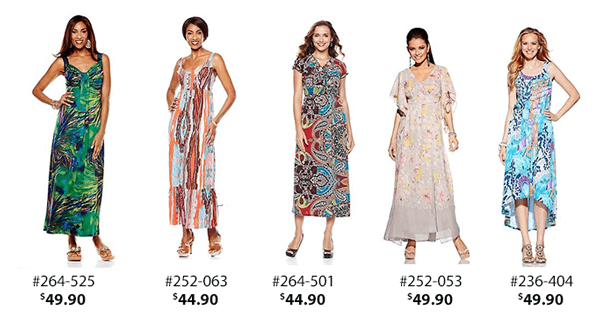 … to night!
Once the sky trades in sunshine for twinkling stars, out come cooler breezes… and these date-night-friendly beauties! Thanks to removable shrugs, both the Hanna and Makayla can extend their style mileage into cooler weather—and they're the perfect cure for chilly summer nights! Hanna is extra forgiving with its criss-cross front and asymmetric buckle accent, and Makayla flatters your figure with its wrapped bust and O-ring waist sash.
Snag subtle shine with help from Dinara, a classic silhouette with creative metallic embellishments down the front, or feel free to let your own shine take the stage in the Addison, a low-key, super-versatile A-line that shows off a back keyhole cut-out, draped front, and hip-height side knot.
Click here to continue shop Antthony's great new looks on HSN!
Antthony is celebrating 19 years as a fashion authority on TV! One day only, starting at midnight, Thursday, July 11 tune into HSN for Antthony's Today Special!
[really_simple_share]