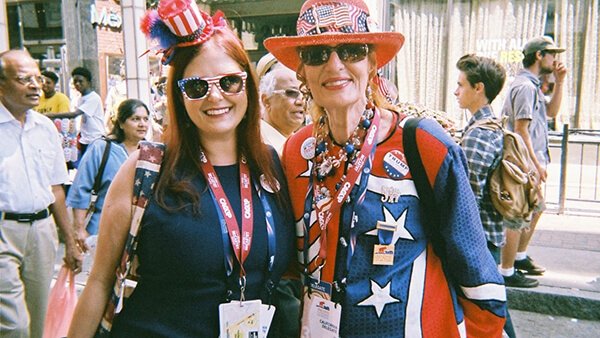 The elections are right around the corner and as a nation we will once again get the privilege of voting in a new President. As a fashion designer and die-hard style innovator, political wardrobes have always fascinated me. They communicate so much about a candidate, a political party, and a nation, without saying a word. As you know, the role of fashion in politics encompasses more than campaign buttons, election t-shirts, and the designer preferences of politicians. Clothing choices help sell a political message. The fashion statements worn on the campaign trail, and on the stage at both conventions, tell a story of our country. And if you look closely, they have much deeper meaning than simple cut and color. Good politicians know that their ability to convey an idea, a mood, and an indefinable something is communicated with words, gestures, and with style.
HERE'S A GLANCE AT HOW POLITICAL
WOMEN WEAR THEIR BRAND!
Hillary Clinton loves monochromatic looks. She's worn nearly every color of the rainbow, which is why when she took to the Democratic National Convention stage in a crisp, white and well-fitted pantsuit, she looked positively Presidential. Her hair was freshly cut, frosted, styled and feathered, and her earrings sparkled. She seemed happy, sounded excited, and appeared hopeful. That was all reflected in her clothes.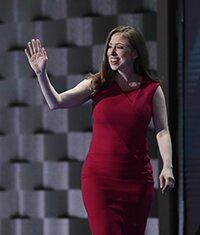 Her daughter Chelsea introduced her, looking sleek in a bright red sheath. Red was a bold choice, and probably had more to do with the love for her mom rather than a reference to the Republican party. Her cheeks were blushed and she looked credible and composed. She has definitely grown up since her childhood days in the White House.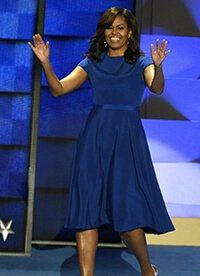 First Lady Michelle Obama stole the show at the Democratic National Convention. Not only was her speech inspiring, but she wore a blue silken belted T-shirt –style fit and flare dress in royal blue that was stunning. The dress was custom-made just for her, and her elegance filled the arena. With hair feathered to perfection, glossy nude lips, peach-hued cheeks and to-die-for brows, her look was a symbol of unity.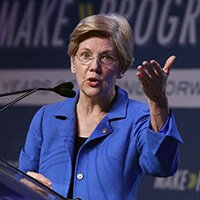 Elizabeth Warren's sleeves are always rolled up — literally and metaphorically. If her jacket sleeves are not cropped, then they are folded back. In her own tailored, jewel-tone way, she is signaling her intention to move the party from abstract policy promises into pure action.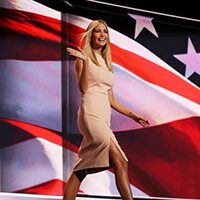 Ivanka Trump wore a simple blush-pink shift dress when she gave a rousing address on behalf of her businessman father, Donald Trump, at the Republican convention. This dress got a lot of attention as it is a low-cost style from her very own fashion line. Consequently, it sold out shortly after her speech. Her look was soft and sophisticated to balance out her father's more boisterous tone.
The off-white Roksanda cotton and satin long-sleeved sheath worn by Melania Trump was simply lovely. On a strictly fashion note, the white sheath with its fluted sleeves and very cool exposed zipper down the back made for an exquisitely put together, if not angelic, look. This is not the first time a powerfully political woman has worn this designer. It is modern, simple and model worthy.
Sarah Palin returned to center stage to endorse GOP front-runner Donald Trump. The former Alaska governor wore a black pencil skirt topped off with a mini black cardigan studded with what looked like needle-thin, glistening stalactites. Her entire speech was filled with demands for attention, but nothing cried out louder than her choice of attire. She came across as someone who has come to steal the spotlight, rather than share it.
I love looking to the fashion of women who have become political style icons. What is great about these political style icons is they do a lot of great work for their countries, and they just happen to look good doing it. But there are other creative fashions that come from their supporters – everyday Americans – who are just as passionate about the future of our great Nation. They came to the conventions with tiny hats, handmade skirts, patriotic manicures and costumes that fused Americana and pop culture. No matter what their political affiliations, their looks are all American.
HERE'S SOME FUN & PATRIOTIC LOOKS FROM THE CONVENTIONS!
If you want to express your patriotism through fun red, white and blue clothing, try shopping at Tipsyelves, The Flag Shirt, or Country Club Prep. If it is patriotic jewelry that you seek, check out Bling Jewlery, Kay Jewelers, or even Kohls. Get creative and wear your love of America proudly, like these loyalists.
[new_royalslider id="1″]
The focus on appearance is nothing new. Do we care how our leaders look? Of course we do. Style shouldn't trump substance — but it is definitely a factor. We want our politicians to look good: attractive, fashionable, well dressed, and perfectly groomed. Ultimately, when looking for leaders, we want their style, sexiness, and good looks to go hand in hand with empathy, compassion, and caring. The First Lady is no exception. Often times she sets that standard for the latest fashion trends.
HERE ARE SOME ICONIC FIRST LADY LOOKS
THROUGH THE YEARS!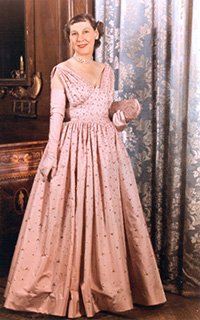 The pale, bubblegum shade of pink from the 1950's was named after Mamie Doud Eisenhower. The hue was seen in midcentury bathrooms, kitchens, and most memorably, on her famous Nettie Rosenstein inauguration dress that now lives in the Smithsonian. She was the essence of femininity and projected a youthful and stylish image. American women loved her because they identified with her.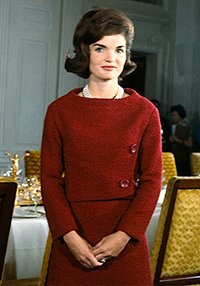 While most stylish First Ladies had tastes that created trends, none have had a more enduring influence than Jackie Kennedy. Her sophisticated, chic fashion endures as a model of the highest level of grace and class. Some highlights include her pillbox hats, oversized sunglasses, patterned headscarves and pearls. Her style was optimistic, in the sense that she was living the life everyone wanted to live!
Nancy Reagan often wore her signature shade which was a crimson red, which she called a picker-upper. She commanded tailored suits and countless Oscar de la Renta creations as she hosted chic receptions like they were a grand Hollywood affair. Her daytime clothes were very clean and classic and her style was unquestionably appropriate. She never went to extremes. She was very refined in her fashion choices.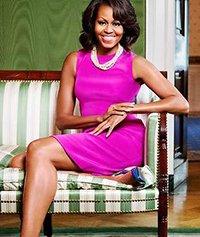 Our current First Lady, Michelle Obama, has been hailed as a style icon. She is not shy about wearing shorts or sleeveless shirts, or at recycling outfits wearing them at multiple occasions. Her approachable, and comfortable style, put her on the map, and her affinity for J. Crew pieces caused sales to skyrocket. She is authentic and always stylish.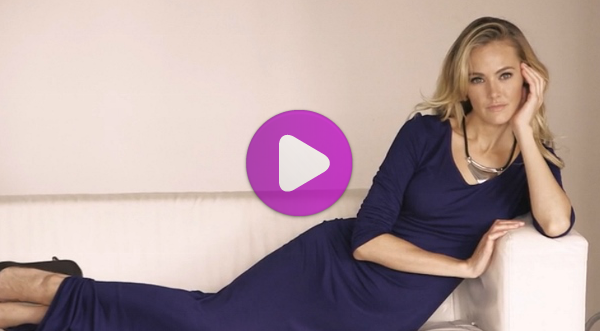 [really_simple_share]