Do you detest the cold and find yourself constantly seeking out a stylish and versatile way cover up? The perfect solution for the season is the sweater coat! This fall, swap out your typical jacket for a softer, cozier companion that is ideal for layering with all of your cold-weather basics.
Need some more convincing? Here are a few more reasons you will want to add this staple piece into your wardrobe rotation.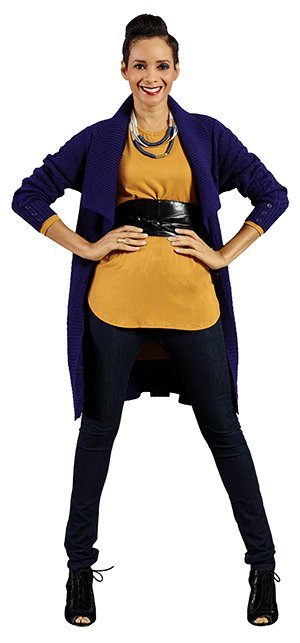 1. It is fashionable enough to catch a second look on the street.
2. It is warm enough to keep you toasty.
3. It is comfortable enough to layer without feeling bulky.
4. It is versatile enough to be worn with multiple outfits.
5. It is light enough to carry around if you find yourself heating up when on the go.
Keeping fashion and warmth in mind, when looking for a coat this season, be sure to also consider the bulkiness factor. A sweater coat has the classic cut of a trench—but feels more like a plush blanket—and is great when combined with something structured and slim fitting underneath. Body-skimming pieces will balance the coat's silhouette for the most figure-flattering look.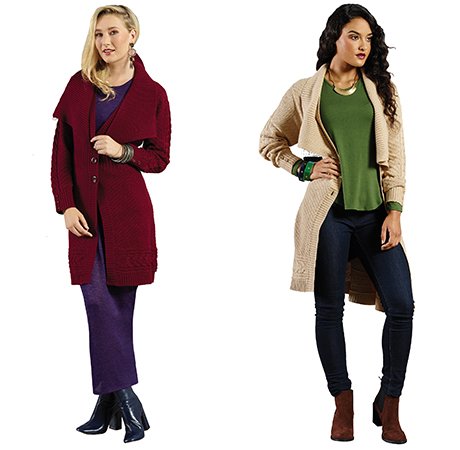 The Antthony Highlander Cable Knit Sweater Coat is a prime example of an office-appropriate outfit that can also be worn for an easy off-duty event. As comfortable as a bathrobe—but far more stylish—this sweater coat is easy, relaxed, and the perfect layering piece.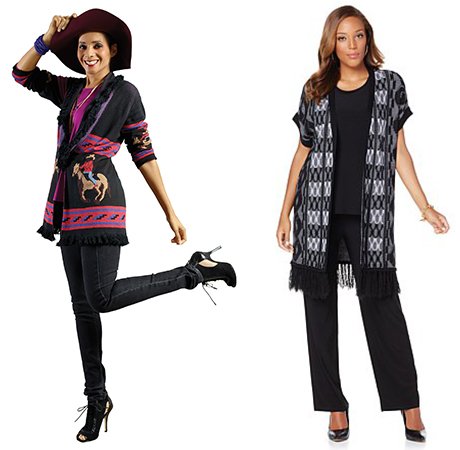 If you are looking for a dose of fun this fall, look no further than the Wild West for inspiration on your next outfit. The belted Antthony Audrey Dicey Cowboy Sweater with Fringe or the Antthony "Spirit of Nyla" Fringe Sweater Cardigan are both great options for a casual-chic weekend or for a walk through the fall foliage. The soft knit and fun decals add texture, while the thickness adds warmth and sturdiness.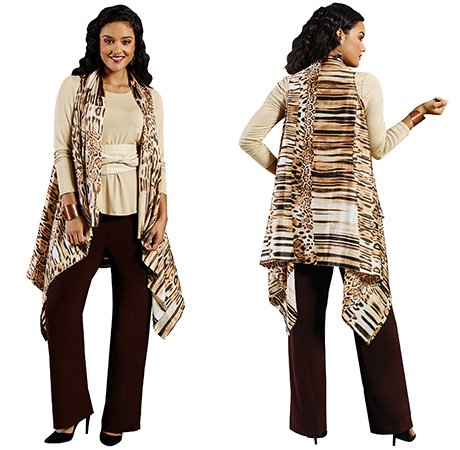 While the Antthony Kelsi Interchangeable Vest is a great way to layer for warmth and comfort. With a more casual tone, the loose, draping open front and animal print showcases style that is perfect for the change of season. Pair it with colored sweaters or long-sleeve tees to maximize your existing wardrobe.
To ensure you have these wardrobe staples on hand when the temperatures drop, shop Antthony designs online at HSN.com or www.AntthonyOriginals.com anytime 24/7. All of these designs come in petite, missy and women's sizes, so there is something here for every woman.
Upcoming Events:
Be sure to tune-in to HSN on this week on Sunday, September 27th at 8am, 2pm and 3pm when I will share my best Scottish-inspired looks for the season. I look forward to sharing my designs during the live premiere of the Antthony Highlander World Expedition Fashion Collection!
Antthony's Highlander Collection Debut
Saturday, September 27th
8am-9am
2pm-3pm 3pm-4pm
For a great deal, be sure to shop the Today's Special on Wednesday, September 30th when HSN will feature an Antthony design as their best value of the day. Shop smart and build your wardrobe for the change of season!
Antthony's Today's Special
September 30th 2015
12am-1am 1am-2am 5am-6am 7am-8am 11am-12pm
4pm-5pm 5pm-6pm 10pm-11pm
All Times Are Eastern Standard
[really_simple_share]