Whether you live in a small space or a large home, go big with the seasonal cheer this year. Festive decorations get everyone into the holiday spirit and you'll find yourself feeling a little extra comfort and joy when you are surrounded with style. Whether you are a traditionalist, a minimalist, or an over-the-top mismatched decorator, you can capture the magic of the holiday with rich colors, glittering lights, and simple statement pieces that perfectly reflect you.
HERE ARE SOME IDEAS TO BRING CHEER TO YOUR HOME THIS HOLIDAY!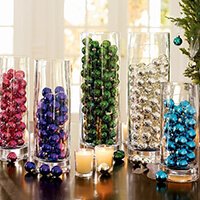 Ornaments
Add some color to your tabletop by displaying your prettiest ornaments where people can see them. Putting small bulbs in a glass vase looks festive and fun, and you can start a new tradition where guests add an ornament or two to your tree before they leave.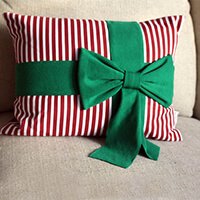 Pillows
An easy decor upgrade is to swap out your normal throw pillows for holiday-themed ones. Or use your special DIY skills to wrap them in a beautiful ribbon to add a festive flair. Your room will feel fresh and you'll be ready to celebrate in style.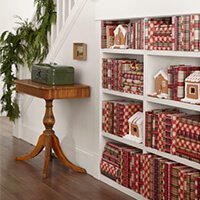 Bookcase
It may be easy to overlook bookcases, but with a roll or two of wrapping paper, your room can get a graphic jolt. Cover your hardbacks with affordable gift-wrap to match your holiday decorations. It's a small project that will bring the holiday to all corners of the room.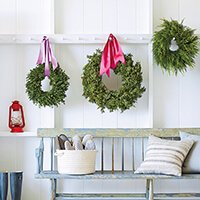 Wreath
Get cheery with your entryway and be welcomed by holiday charm every time you come home. A wreath and ribbon has just enough foliage to transform your room and usher in the season. This is especially great for the minimalist decorator.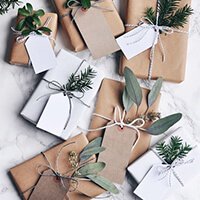 Gifts
Make your wrapping paper the decor. You took the time to make a lovely package for the special person in your life, so why not use that beauty in your home until it is time to give them away? Place them under the tree or in a wicker basket and your space will get an instant holiday vibe.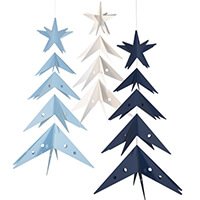 Paper Trees
We all have pretty scraps of paper laying around that we keep for special projects. Turn those bits of paper into dainty, paper trees. Let your crafty side free and decorate hallways, doorknobs or windows with these fun, holiday origami creations.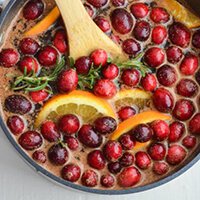 Aroma
Last but not least, be sure to fill your home with holiday aromas for a winter wonderland for your nose. Oranges and cranberries simmering on the stove is great, or you can buy cinnamon scented pine cones to place near the fireplace. Let the smells of the season fill your home this year.
UPCOMING EVENTS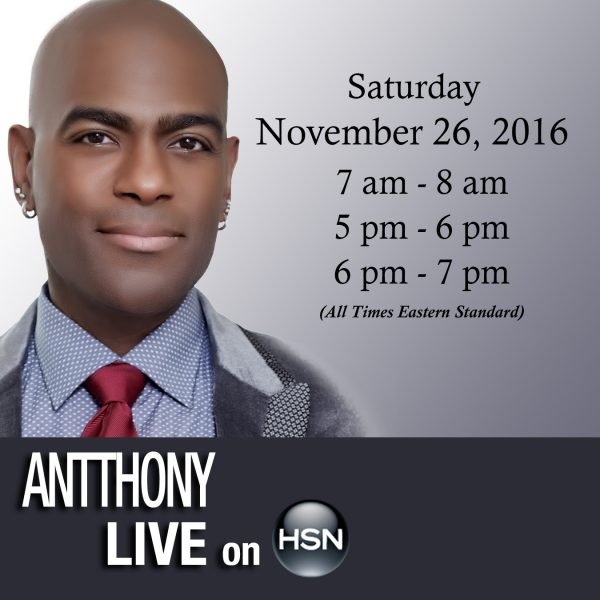 LIVE ON HSN
Mark your calendar and tune-in to HSN this week on Saturday, November 26th when I will share my latest collection – live! If you are looking for something to wear this holiday season, or for a gift for the women in your life, remember you can shop Antthony designs online at HSN.com or www.AntthonyOriginals.com anytime 24/7. All of my designs come in petite, missy and women's sizes, so there is something here for every woman.
Saturday November 26th
7am-8am EST
5pm-6pm EST
6pm-7pm EST