Tunic length shirts and tops are all the rage for the spring and summer season bringing chic and versatile, figure flattering looks that simply can't be beat! Tunics can be worn in most work environments with stylish pants or paired up with leggings, crop pants, shorts, minis or straight pencil skirts for an afternoon of shopping or sightseeing or night out on the town. The beauty of the tunic is it works for any body size or shape, can be easily paired with your existing wardrobe favorites and comes in every style from classic and sophisticated to cool and casual. Let's uncover how you can rock your new tunic length tops!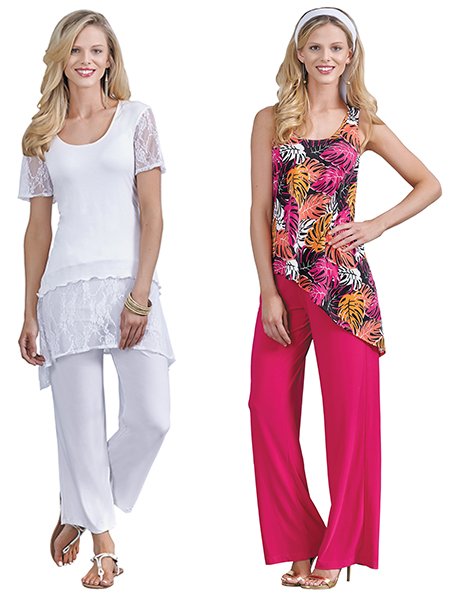 It's important to start with the basics of tunic style. Tunics are designed to fall favorably at the hip or the thigh. They are typically somewhat relaxed and can camouflage those little flaws we all like to hide. The secret is to find the style that flatters and pair it with the perfect accoutrement that complements and looks beautiful. When selecting your new tunics for the season, choose a fabric that drapes beneficially – harmonizing with your body's shape and size.
How to pair your tunic is important in perfecting your tunic style. Ladies of every shape, height, and size won't go wrong in pairing a tunic with slim fitted pants, leggings or straight cut jeans. Pencil skirts will also work, as will, slim, straight cut Bermuda shorts and crop pants. Now since the tunic is long, the tendency may seem that your legs will look short –but choose your favorite pair of high heels or wedges and that little dilemma is solved! If you think the tunic is a bit to boxy or baggy, add a belt – your choice thin or wide style – placed where your waist is thinnest.
Height does make a difference when styling your new tunic. If you're taller (5'5" or above) you can pair up your tunic with a more flared pants style. Of course, no matter your height, you want to make your legs look long and svelte, not short and full. The solution, if you're tall, is a tunic with a hemline that is slightly longer falling a few inches above your knees. On the other hand, if you are more petite, you want your tunic to sit closer to your hip for a leaner look.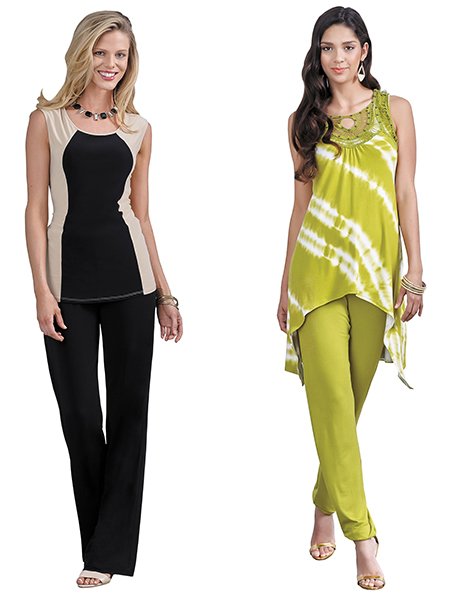 Now if you have luscious curves to highlight, you'll want a tunic that flairs slightly at the hemline. Also you'll want to consider a coordinating pant, legging, shorts or skirt or even a darker shade to give you the most flattering style!
Okay, ladies, now it's time to show me your tunic fashion flair while shopping my latest offerings at www.AntthonyOriginals.com and on HSN 24/7. Please join me to chat live on May 23 from 10 AM to 11 AM, 11 AM to Noon, 3 PM to 4 PM and 4 PM to 5 PM EST. While we visit, shop and style, you can help me Celebrate 21 years with YOU and HSN!
Upcoming Show Dates:
SATURDAY MAY 23RD
10am-11am  11am-12 noon
3pm-4pm  4pm-5pm
All Times Are Eastern Standard
[really_simple_share]