Do you sometimes feel that your room is a little boring and needs to be livened up? You can do this simply by adding a splash of color! Even the tiniest hint of color, when used in the right way, can help set the mood and completely change the tone of the room. Just like in fashion, some colors are vivacious and energetic while others are much more calming and relaxing. Be sure to pick a color that takes into account your design style, your home's aesthetic, and, of course, your own tastes.
A quick word of caution before you get started: mixing too many colors in a single place will create a sensation of disorder. When decorating a room, a good rule of thumb is to divide the colors into percentages:
60% of a dominant color – primarily on the walls
30% of a secondary color – upholstery and furniture
10% of an accent color – accessories or a floral arrangement
Whether you want a pop here and burst there, or you want to pack a colorful punch, below you'll find some creative and unexpected ways to add a little more color to your home!
HERE ARE 10 WAYS TO ADD SOME COLOR TO ANY ROOM ON A BUDGET!
BRIGHT PILLOWS
Perhaps you're renting, or prefer to have a neutral color on your walls, but you yearn for a touch of color. You don't want to replace expensive furniture pieces because the ones you have are perfect. To recreate your style on a budget, all you need to do is add some bright colored pillows. You'll be making a big impact with minimal fuss.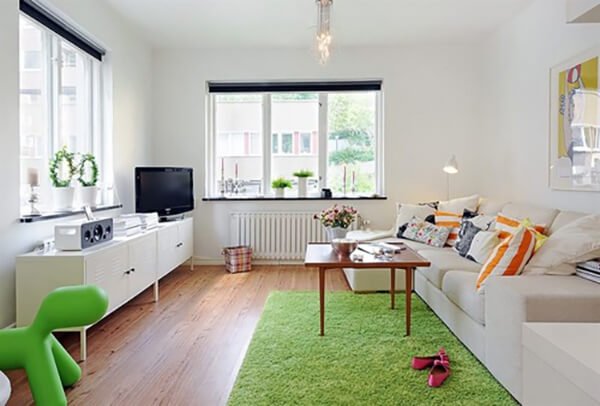 VIBRANT RUGS
One of the best ways to change a color scheme in a room is to get a great rug. A pop of color on your floors is a creative way to breathe new life into the entire room. It is also a great way to cover up the imperfections in older hardwood floors, and costs significantly less than refinishing your floors in their current, less than perfect condition.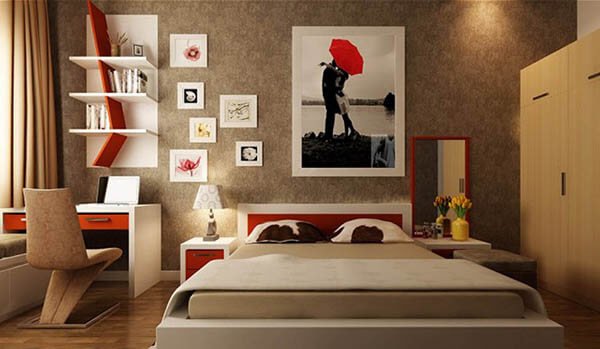 HANG ARTWORK
You don't need an extensive collection of fine art; just hang a few color paintings, posters or photographs to liven up any room. Hanging a piece of your favorite art will give your walls an instant pop of color, and add another layer of texture and dimension to your room. Besides, nothing is as reflective of one's style as art that represents a piece of the inner you.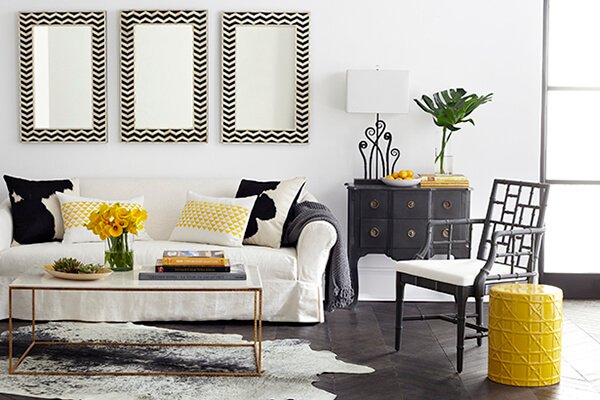 FRESH FLOWERS
Perhaps the easiest means of adding a touch of color to your space is by simply adding some bright, colorful flowers. Whether an ornate arrangement or a simple grouping, a vase of flowers can instantly transform your room. And what's more, you can change your flower colors on a regular basis and according to the seasons!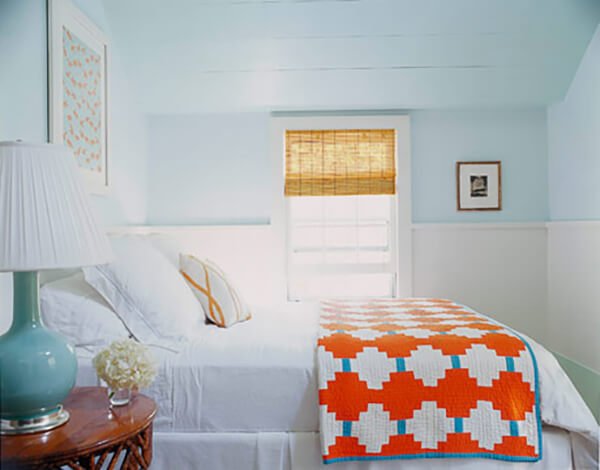 REFRESH YOUR BEDDING
The bed is almost always the main focus of the bedroom, so use it to make a color statement with a set of vibrant sheets. Using a double-sided duvet gives you the opportunity to display a pattern that will bring visual interest to a color-blocked design. Around back-to-school and during the holidays, you can find inexpensive bedding or sales to keep the costs to a minimum.
WALLPAPER WOW
The popular trend of using removable wallpaper to add color to a room is both fun and easy. All you need to do is peel the backing and press it to the wall, then simply pull it back off if you tire of the look or if you're a renter. You can use big graphic colorful prints behind a bed as a headboard, on a hollow-core door to make it dimensional, or over a fireplace without a big commitment.
GO EXOTIC
Troll online or visit your favorite flea market to find some international textiles to add to your room. Colorful embroidered prints from Asia, India, or Guatemala will look amazing draped over a chair, bed, or sofa. You'll add instant color and have a daily reminder that we are connected in this big world. It can also make a great conversation piece, so keep your eye out for these types of accessories as you travel.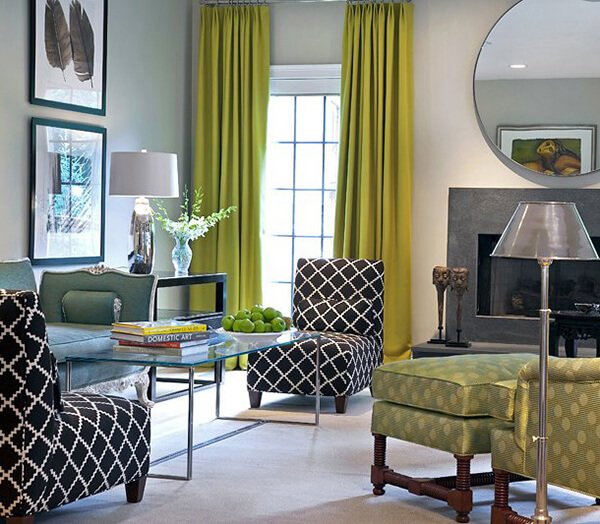 COLORFUL CURTAINS
Window treatments can provide a striking swath of color without the use of paint, and will create a focal point for your room – without breaking your budget. Mount curtain panels on the wall, near the ceiling, with the bottoms brushing the floor for a dramatic, colorful look. Experiment with different patterns, color combinations, and treatment styles to find which style works best with your windows.
PAINT YOUR DOOR
Your front door is the portal to your home and it should be inviting and reflective of the family inside. A freshly painted front door may suggest a home that is well kept, and it also gives your guests a knockout first impression. It is a simple and easy way to add color to your home without a lot of hassle or money.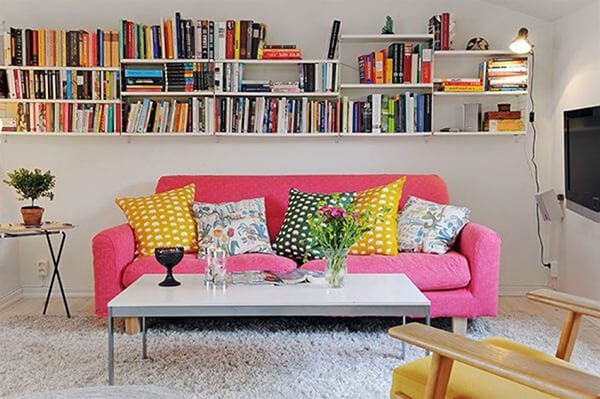 BUNDLE YOUR BOOKS
Using things you already have, arranged in a different way can make a big statement. Try grouping books and tchotchkes or other similarly hued objects to bring focus to a cluttered bookcase. Stagger your boldest colors on key shelves, like the top, bottom, and middle, leaving neutral space in between.
Sometimes you don't need to make a big change, to see a big difference in your home. Even the simplest projects can renew your space and lead to an instant upgrade—and some cost nothing but elbow grease.
HERE ARE 3 FREE WAYS TO IMPROVE YOUR HOME TODAY!
Clean Your Windows: Okay, so this isn't the most glamorous way to update your space. But when you pay extra attention to making sure windows shine on the inside and out, this simple project will help welcome more natural light in and give the room a whole new look.
Organize The Linen Closet: Another small project that makes a big difference is to sort your linens. Make sure to group them by type and color – and don't forget to refold each piece. Roll and stack favorite towels to refresh the look, and bonus, it will make items easier to find.
Upcoming Events
LIVE ON HSN!
Mark your calendar and tune-in to HSN on Sunday, May 15th at 12pm, 1pm and 11pm when I will share my latest collection live. Remember, you can shop Antthony designs online at HSN.com or www.AntthonyOriginals.com anytime 24/7. All of my designs come in petite, missy and women's sizes, so there is something here for every woman.
Sunday, May 15th:
12pm – 1pm
1pm – 2pm
11pm – 12am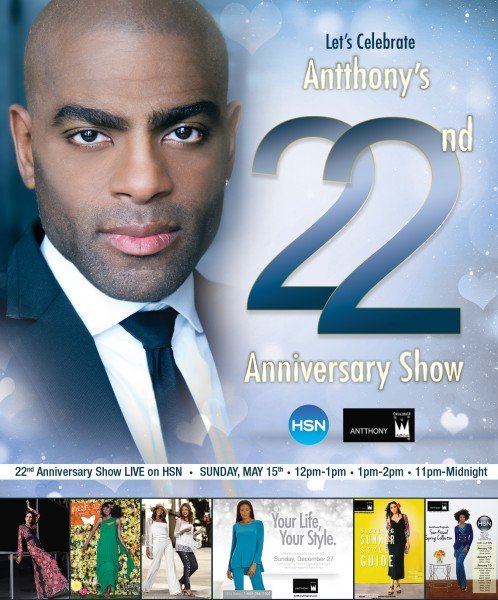 LIVE ON QVC!
Tune-in on Thursday, May 26th and Friday, May 27th when I will share my latest collection live. You can also shop Antthony designs online at QVCUK.com.
Thursday, May 26th
10am -11am
3pm – 4pm
8pm – 9pm
Friday, May 27th
2pm – 3pm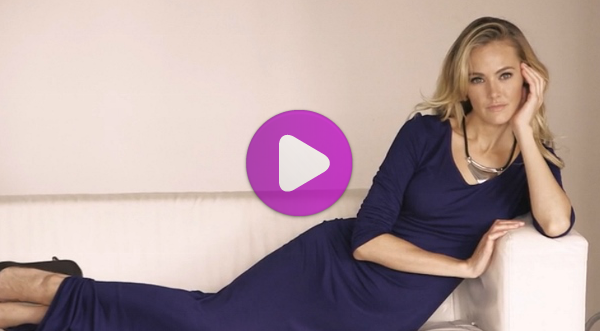 [really_simple_share]