The back to school frenzy is over, and we all know that means fall fashion is just around the bend. It's time to put away those swimsuits, cover-ups and flip flops and find your way into the sumptuous looks of fall. Fall this year is trending a few perennial favorites, allowing you to blend last year's best with this year's hottest fall fashion trends.
Plaid is still all the rage, but with a more edgy urban look this year. No school girl or cowgirl plaids this time, but bigger and bolder, embellished with fur, leather, fringe featured in coats, capes, dresses, suits and sweaters. Oversized knits also remain a staple for Fall 2014, but those big cozy sweaters are paired with leggings and the belted sweater dress is still on point. Add a touch of class to nubby oversized sweaters by pairing them with flirty, feminine skirts and complementary scarves.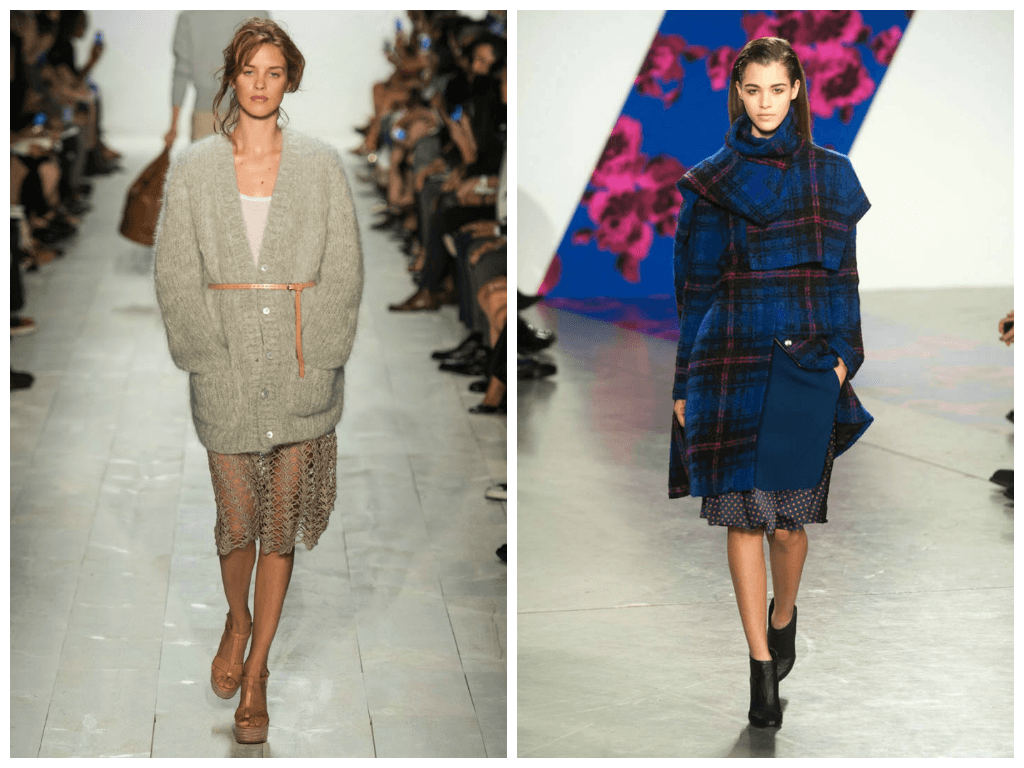 Go to Fall Colors
This fall's favorite color trends are blues, oranges, and emerald green. Hot blues range from baby blue to pretty periwinkle to rich sapphires and every shade in between. Go for all over shades of your preferred blue or create your own unique statement by pairing up your favorite bright blue with this year's choice neutral – gray. Oranges for fall offer you the option of vivid and bright or soft and subtle and are ready to add dramatic flair to your fall wardrobe. Intense, rich emerald green was prominent on the runway this fall, featured in luxurious coats, dresses and sweaters.

Fur Is In and On
Lavish, glamorous fur is everywhere this fall – one of the must haves for Fall 2014. This year fur is somewhat retro come together with ultra-feminine styling. Fur is not just for coats anymore – this year's fur creations include short trendy jackets, long and short capes, long belted wraps, vests and sweaters and presented in every form of embellishment imaginable. You'll still find the superb color favorites of years gone by – black, browns, grays and the like – but this year's fur offerings deliver on chic style with pastel tones, vibrant brights, patterns, stripes, geometric designs and plaids.
Animal Motifs in ladylike stylings are a chic trend that you will want to embrace this fall. Whether you choose to wear your animals allover or pair your wilder pieces with solid separates, you can't go wrong with this fun fashion look! Choose a leopard or cheetah print for both the top and bottom or select a big, bold embossed bird, lion, or fox for your signature animal motif. You'll find leather and fur trims, floral embellishments and more in these flirty, enjoyable, trendy pieces.
This is just a taste of hot fall trends coming this season from Antthony Originals. Don't miss next week's blog for the big reveal including upcoming show times so you can find all of your fall favorites!
Dear Ladies,
I am thrilled to introduce my new collection – Metropolitan Style – to you! This latest collection is inspired by the cosmopolitan city of Milan, Italy – the city of tailors – whose fashion features the utmost quality coupled with simple chic elegance. The Metropolitan Style Collection follows in the path of Milan, delivering upscale designs with affordable prices. Each piece in the collection delivers clean lines with silhouettes to flatter your unique shape and style. You can be sure that no fashion conscious woman is left out of the Metropolitan Style Collection, which features complimentary styles for petites to full figures – Antthony has the ideal design for each of you beautiful ladies. Join me on HSN Live and at www.AntthonyOriginals.com and discover your latest runway style with the new Metropolitan Style Collection.
[really_simple_share]