New Year's Eve likely brings to mind extravagant soirees – posh parties filled with glamourous style, rich, delectable hors d'oeuvres, exclusive champagne, dazzling fireworks and a passionate kiss at midnight. What if, though you love the idea, it is totally out of reach for your budget this year – what's a fun-loving, holiday celebrating girl to do? Well, lots of New Year's reveling, of course. Let's take a look at some great ways to celebrate the New Year on a Dime!
Host Your Own Delightful New Year's Eve Soiree!
Now this great idea can go one of two ways – but either way you are the hostess so you can make the rules and control the budget. Party One lets you show off your cooking style by serving up all your favorite hors d'oeuvres (also known as finger foods and appetizers, but hors d'oeuvres sounds so much more exciting, yes?) and providing the sparkling wine for the midnight toasts; while your friends supply the other beverages, alcoholic and non-alcoholic – their choice.
Party Style Two works in the opposite way – you offer to cover all the beverages including the midnight toasts and have your friends bring their favorite hors d'oeuvres to the party. For both parties, you get to decorate in a fun and festive way, creating an open space for dancing, karaoke, and even party games. Be sure the television is in a prime viewing space – since you're staying in everyone will want to see the ball drop in Times Square at midnight. Decorating can be easy if you go with a timeless black and white theme, add some candles and holiday lights to the mix and Voilà – a flirty, fun New Year's Eve Party is about to begin.
Remember, too, that just because the party is at your house – there is no need to skimp on style. That doesn't mean you have to don your best little black dress (unless you want to!), but by all means choose some great leggings or skinny jeans and a sparkling top for a festive flair.

Attend Your Local New Year's Eve Extravaganza!
This, too, is a budget friendly idea with two options for a joyful night of celebration. Option one – gather all your friends and head to your city or town's New Year's Eve Extravaganza. Nearly every locale has one offering all sorts of free or low-cost merrymaking opportunities from bands to fireworks. Many provide family friendly activities as well in case you want to bring the kiddos along. Everyone foots the bill for their own foods and beverages, and everyone has a great time hanging out with friends! Style definitely counts at this outing – since you'll be walking around and maybe even dancing, choose comfortable couture with timeless boots or ballet flats for your evening of ringing in the New Year. A perfect ensemble for this night out is Antthony's Ruffle Pant Set and glimmer gold Mary Janes featured in this month of InStyle!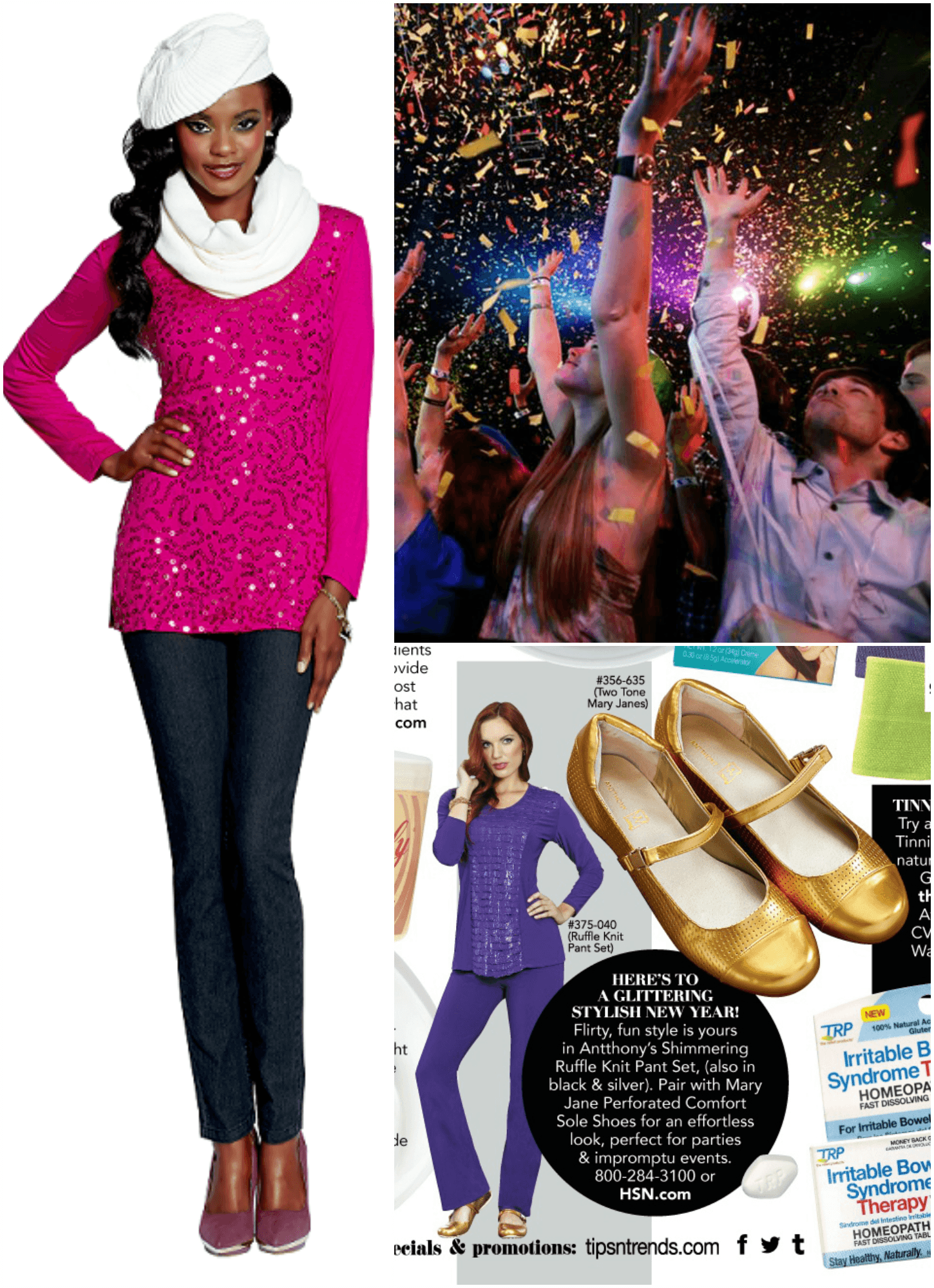 Option Two features a gathering of two – you and your special someone – a romantic candlelight late supper at home (or at your favorite restaurant – while remembering that New Year's on a dime is the goal!) followed by your communities New Year's Eve Fireworks Spectacular. After dinner, slip on your coats, grab a blanket, bring along your favorite hot beverages and watch the fireworks show snuggled up together! This may be the time to slip on your best little black dress and some sparkling heels to spice up the night!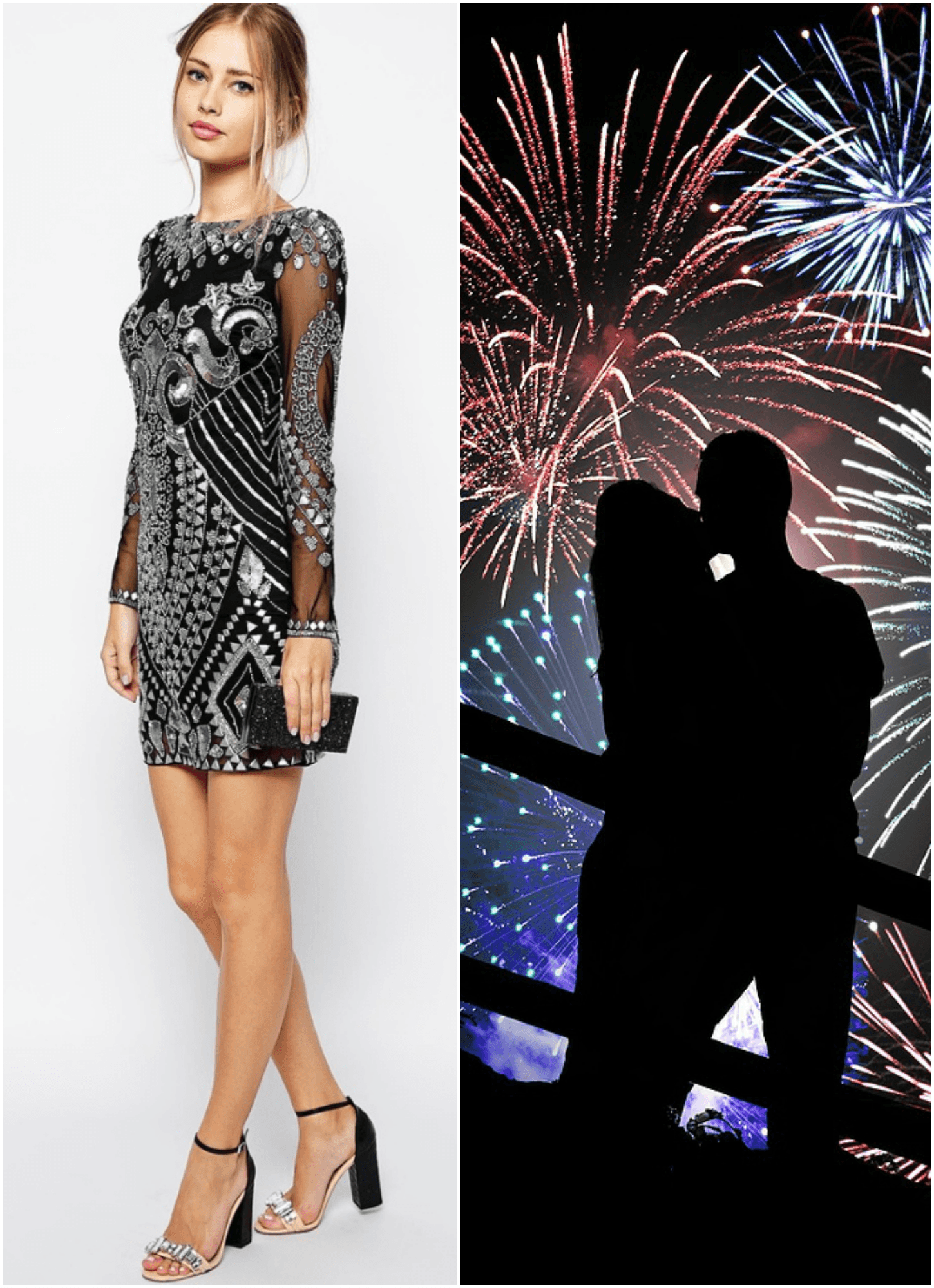 New Year's Eve can be had on a dime and your chic style doesn't have to suffer! The head to toe look can be yours when you stop by www.AntthonyOriginals.com and select your New Year's Eve ensemble from the fabulous holiday collection exclusively at HSN. Don't forget to pick up the January edition of InStyle at the news stands featuring Antthony Originals!
Dear Ladies,
Let me be the first to wish you Happy Holidays! I know that the Holiday Season is still weeks away, but the excitement of my latest Holiday Collection certainly has me in a festive spirit. The latest collection offers a new twist – effortless dressing! Yes, that's right – a dream come true – natural, graceful and uncomplicated dressing. The Holiday Collection offers up all of the fashionable and en vogue pieces that you need to get you to the holidays and through the holidays beautifully. Each piece in the collection is designed, not for you to simply purchase more clothes, but for you to assemble your chic and stylish wardrobe. Each article in the Holiday Collection is created so that all pieces work seamlessly together allowing you to mix and match to your heart's content. AM to PM dressing is no longer a stress-filled event, but now a pleasurable pursuit as Antthony delivers flattering style and grace for petite to full-figure. Join me on HSN Live and at www.AntthonyOriginals.com and uncover the latest in high fashion styles, from the brand new Holiday Collection, that fit and compliment, working together to build your ideal wardrobe.
Antthony Design Originals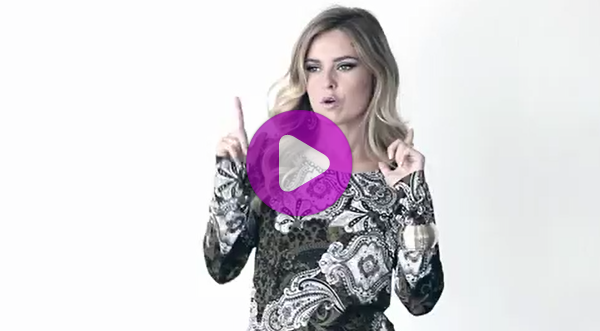 [really_simple_share]