It's the season of magic, of sparkle, and of fabulous fetes around every corner. Welcome, ladies! We're so delighted it's finally here. (Imagine us offering you a tray full of bubbly, wonderful drinks now so we can toast to its, and your, arrival.)
Over at HSN.com, our exclusive collection is looking more dazzling than ever—which, of course, makes it all the more challenging to choose what we love the most. Playing favorites is hard when everything is your favorite, you know?
This week, we're showing love for our favorite flowy pieces; if history repeats itself, these will be selling out in a flash… so we highly recommend you grab 'em before they're gone!
Fringe and Flair
It's effortless, it's super chic, it's an instant outfit maker… it's our Rosella sweater fringe poncho! Feather-light fringe dances around the hem, and up top, a cozy cowl neckline surrounds your neck in softness. Unlike other ponchos, this one is designed with a side tab and button, which helps shape the look and prevent your gorgeous figure from disappearing inside.
Ruffles more your style than fringe? Our ruffled Hatchi cardigan will be love at first sight, especially once you see how magnificently movement-filled the front ruffles are in real life! Thanks to the gorgeous fabric and chiffon accents, it's an effortless day-to-evening piece, and it's a snap to mix up the look—wear open or add a belt for two completely unique, equally gorgeous looks.


Romance and Lace
What's more poetic than a flowy, boho-beautiful top like our Cinzia ruffle blouse? Nothing. Absolutely nothing. Perfect for speaking the language of love to your inner bohemian queen, it's an airy chiffon with handkerchief hemline and volume-enhancing elastic wrists, completed by flowy ruffle trim; elements that create instant romance and whimsy.
And how can we talk about whimsy without mentioning lace? Floral lace and soft ruffles, hidden self-fabric buttons, and crochet-lace trim around the Mandarin neckline create a look that's soft and full of romance. Perfectly on-trend for this season's "white on white" looks, our lace-trimmed ivory blouse looks absolutely divine with long, stacked necklaces and a thin, contrast-colored belt cinched at the waist.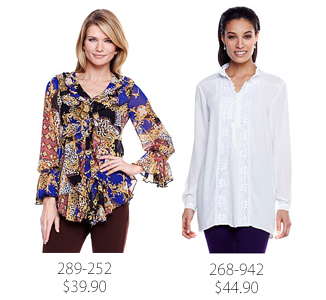 Asymmetrical and Stripes
Fitted on the top and flowy on the bottom, our Alessa asymmetrical draped tunic is supremely, superbly charming. It's hard to see in the photo, but the fabric is embossed across the top and down the sides with soft swirls; an effect that's traffic-stopping stunning in real life. Trust us, ladies; it's gawwwwgeous.
Stripes take their turn in the spotlight on our striped top and pants set—but before you dismiss this as "just another set," wait until we tell you about its amazing features. For starters, the top has a shawl-bolero hybrid wrapping around the shoulders, creating the look of an attached scarf, and the color blocking and stripes are specially placed to visually elongate the torso. Bam. Extraordinary! When paired with the included, coordinating pants, you've got an instant outfit that flatters and looks utterly fabulous.


If you're ready to treat yourself, head over to HSN.com and grab one of these fabulous, flowy designs—or be someone's favorite Santa by treating them, instead!
[really_simple_share]