Foods can be fashionable? Yes, they can – as long as you are choosing the right food to eat! Whether it is the night before a big date or your everyday fare, it is important to choose the foods that will avoid the dreaded bloat, making you look heavier than you should look. We are here to help you find the perfect combination between delicious foods and waist slimming clothes – just in time for the most romantic holiday of the year! The best news is that you will not have to endure a painful boot camp or starve yourself for three days at a time!
The Food you Eat
• Eat your fiber – Ladies, fiber should be your best friend! It will keep you regular and avoid the dreaded bloated, uncomfortable, cannot button your pants feeling that can be a result of too little fiber. This means that you should choose plenty of fruits, vegetables, whole grains and seeds throughout your day.
• Avoid sweeteners – Diet foods are deceiving. You think they are good for you, when in reality, those artificial sweeteners are causing you to suffer from bloating!
• Avoid sodium – Salt might taste good, but it does not look good on you. Try to avoid products with added sodium. Simply learn to read labels and choose those products without added salt so that you can fit into your skinny jeans.
• Eat often – Here's the best news; try to avoid eating three square meals a day. Instead, become a grazer and eat 5 mini meals throughout the day that includes plenty of fruits and vegetables and do not forget to chew slow as that will help your body digest the food easier.
Flattering Clothes
Now that you know what you should focus on when you are eating – let's take a look at the clothes that offer the most flattering for your figure, namely your waist.
• Layer up with undergarments – We are not talking about the sexy lingerie you are wearing for Valentine's Day, but the base layer that can set the tone for your entire outfit. Choose panties that reach over your stomach, not just underneath it, as this causes the dreaded muffin top. You can also wear a camisole with slimming properties underneath your top; this helps keep everything in a straight line.
• Go for the stretch – Pants that offer a little give will effortlessly glide over those areas that you would prefer to hide, giving you more comfort and a more flattering look.
• Skip the low rise – Yes, the trends all say go low, but if you are trying to hide a belly, low is not the way to go. Try a mid-rise or even high rise. If you wear the right top, no one is going to know that your jeans go higher than the trends suggest!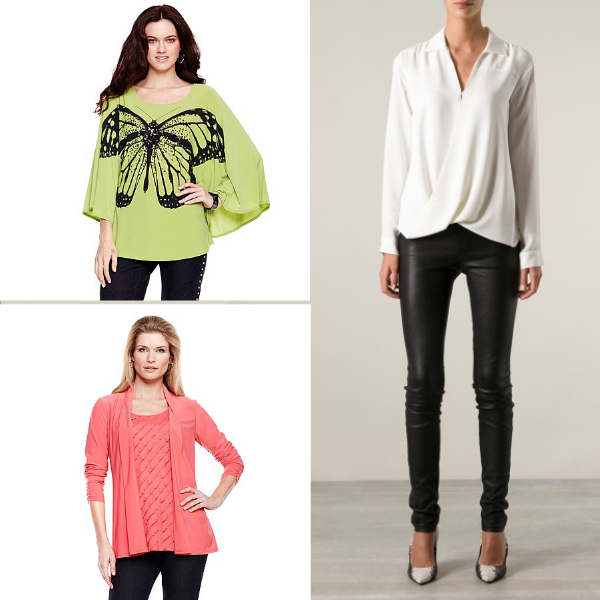 • Wear quality tops – Choose tops that are not too short and not too tightly fitted. A beautiful ruching or draping can add an instant flattery to your outfit and hide the area of your body that you most want to hide.
It is that simple ladies! Eat your fruits and vegetables, just like your mama told you and choose flattering clothes. You do not have to wait painful months for your new diet or exercise plan to show results, by choosing the right foods and clothing now, you can look like an entirely new person in a matter of days! Go ahead and try it, then come visit us on Facebook and tell us how good you look and feel!
FABULOUSLY FUTURISTIC STYLE
Welcome to the past, present and future of style combined into one fabulously forward-thinking collection from Antthony. These retro-futuristic designs blend vintage shapes with modern texture and patterns for a warp-speed update to your wardrobe. All the time travel trends indicate these are the looks that you never knew you always wanted – until now!
We invite you to celebrate 20 years of great design by Antthony, by tuning into the upcoming HSN shows. Throughout the year they will be featuring special pricing on the most cutting-edge designs and showcasing the best deals of the season. So let tomorrow's styles be yours today when you log in to HSN.com and look for Anthony under the fashion tab, where you will see more looks than ever before. All designs fit women from size 4 to 26W. The future of style begins now!
[really_simple_share]