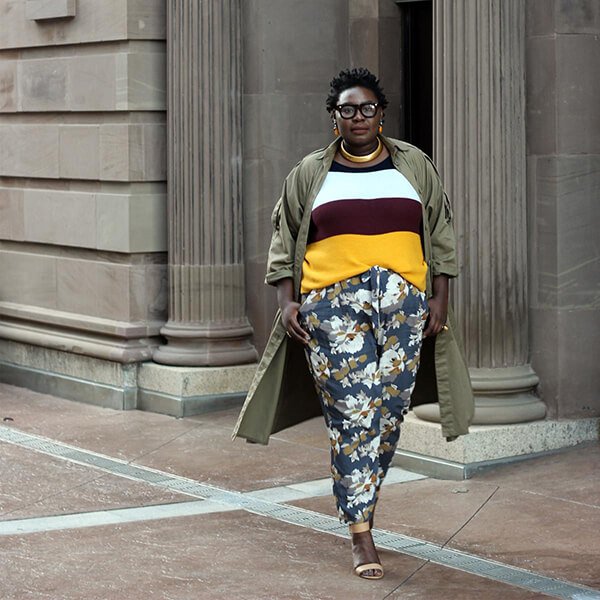 Credit: Lion Hunter
The end of summer is nearing and fall will soon take center stage. Whether you're ready or not, the new season will require your closet to make a seasonal overhaul to include the best fall essentials. In other words, shopping for fall should be underway. And what better fall essential to add to your wardrobe than a collection of sweaters as the weather begins to switch from warm to cooler temps.
Looking for sweaters can be made easy when opting for those sweater styles that compliment you and offers comfortability all in one. There are now a plethora of sweater styles to choose from that cater to every shape and style. Making sweaters more universally appealing to all shapes and sizes.
On this post we'll talk fall sweaters for your curves and the best fit that will offer a love match between your body shape, personality and style.
THE STYLES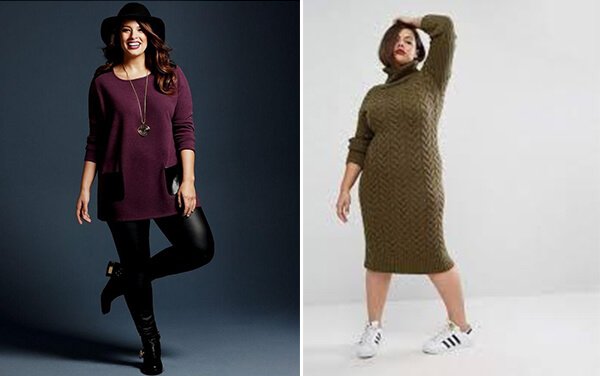 Credit: Plus Look
The Sweater Dress
Sweater dresses are effortless, functional and easy to wear. Its versatility allows you to wear it many ways and at most, comfortably preferred. You can dress it up with or without leggings while pairing it with statement jewelry and knee-high boots. As a casual look you can dress it with or without jeans, a cute hat, tennis shoes or edgy boots. To play up those curves add a belt to flatter your figure.
The Twist Front Knit Sweater
The twist front knit sweater is the perfect statement sweater. Adding a little something more, it draws the attention to the waistline giving you an hourglass silhouette. No need to wear a necklace as the twist knot accessorizes the sweater all on its own. Wear it with your favorite high-waist pants or skirt for a chic finish. It's the perfect sweater that will take you from sun up to sun down.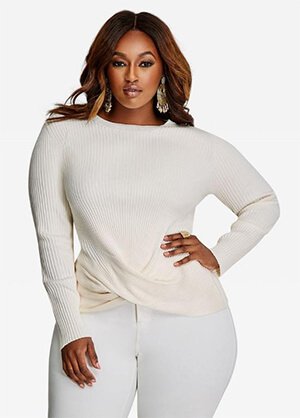 Credit: Ashley Stewart
Credit: Roaman's
The Tiered Ruffled Sleeve Sweater
The tiered sleeve trend won't be ending anytime soon so why not take the trend into fall with a sweater look. A tiered ruffled sleeve sweater makes it easy to play dress up with its voluminous elegance detailed on the arms. It helps draw the attention away from those flawed areas and right to your arms. And if you're not a fan of your arms, it's the perfect camouflage.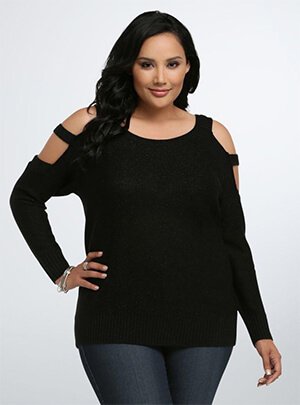 Credit: Torrid
The Cold Shoulder Sweater
Love that the cold shoulder trend not only exists in the warmer temp seasons, but the cold seasons too. It's the perfect transition from summer to fall. The cold shoulder is a blend of comfortable yet sexy vibes. If you love your shoulders, than you'll love the way they'd look in the cold shoulder sweater. Focus on the sweater texture, print and color so that it caters to your personal style. It can also double as a night out top or as a casual top.
THE FIT
Necklines
Choose a neckline that will best fit your body shape. Wearing a V or deep V neckline with a large chest is idea for a well-balanced look. For a small chest preferably, a crew or scoop neckline to accentuate your bust to appear larger. The idea is for your size to look more proportionate in appearance. With turtleneck sweaters you must choose wisely and be fashionably careful to not wear a form fitted one if your chest is large or loose if you have a small chest. You don't want to appear larger or smaller than you really are.
Solid Colors v. Patterns
Selecting solid colors over patterns will less likely add pounds to your look. Be careful to not choose large patterns that over emphasize your figure. Smaller patterns are a more flattering to your figure and size. Solid colors provide a more slimming look. Wear colors that best complement your skin tone.
LIVE ON HSN
Mark your calendar and tune-in to HSN on Friday September 21st, when I will be live and talking to you about my latest collection. If you need something to keep you cozy this fall, remember you can shop Antthony designs online at HSN.com or www.AntthonyOriginals.com anytime 24/7. All of my designs come in petite, missy and women's sizes, so there is something here for every woman.
Friday September 21st
12AM – 2AM
9AM – 11AM
3PM – 4PM
9PM – 11PM
(Eastern Standard Time)