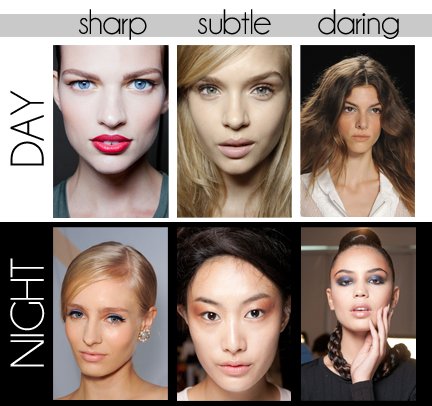 It's not only apparel inspiration that is coming off the runway this Spring season. Makeup showcased in the Spring 2013 runway shows was more attainable and everyday-relevant then ever!
As schedules get increasingly hectic in this on-the-go world, it becomes all the more important to make sure that you are putting your best face forward with as little maintenance as possible. In the same way that a versatile wardrobe is of utmost importance, it is just as crucial to have easy and versatile cosmetic looks in your repertoire.
A sharp cat eye, achieved with one or multiple colors of liquid eyeliner, is a perfect way to transition from the boardroom to happy hour in one maintainable swoop. This classic look is as sheik and sophisticated as it is low-maintenance. Make sure to accentuate your peepers with a waterproof liner and you'll be good to go from sunup to sundown and possibly beyond! Dare to top the black liner with a bold color for an even more eye-catching look.
For those who opt for a less bold look, a neutral smoky eye is the way to go. Choose a soft color just slightly darker than your skin tone to start the day and then accentuate with just one more swipe of a slightly darker shade to really make your eyes pop under in the moonlight. Remember to brush just a small bit of iridescent powder on the inner corners of your eyes to really increase your glow.
Finally, for those who want to really stand out night and day, swipe a bright pastel color on your eyelids and a few coats of dark mascara for a flirty daytime face. To up the intensity just a bit when you're ready to slip out for a night on the town, just layer a charcoal grey power over that existing color for an iridescent play on the classic smoky eye. Finish off the look with a touch-up coat of mascara and there's no doubt that you're looking at fabulous in the mirror.
[really_simple_share]