When traveling, the goal is obviously to be comfortable and yet still look amazing wherever the road takes you. Many of you are likely getting your summer vacations plans together right now, so what better time to talk about clothing that travels well. While today, quite a few options are available and nothing travels better than dresses. Not only do they travel well, a dress is an ideal choice for virtually any vacation destination. Whether you are island hopping or traveling by train across Europe or simply touring the United States, dresses are the perfect choice.
Obviously, the fabric is the thing when choosing dresses to take along with you on your summertime adventure, so let's consider a few options that can take the suitcase and still come out looking beautiful for you when you arrive at your destination. Let's face it, no one wants to iron when on vacation – so each of these dress styles requires little to no care when on your arrival so that you can get straight to the fun!
Island of MartiniqueIsland of Jamaica
Knit Dresses are the best, typically lightweight and not likely to wrinkle while traveling in your suitcase or bag. When you get to your destination, simply give them a shake and hang them up. The addition of Lycra is an added bonus, helping your dress to maintain its shape while preventing wrinkling even if it gets scrunched up while packed! Jersey is an ideal choice, light and airy and without wrinkles even after sitting for an hour or two.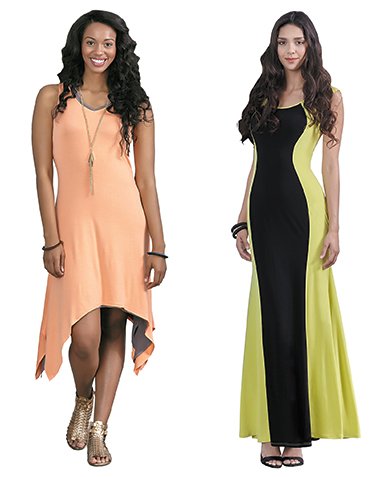 Wrinkle resistant or no-iron cotton also deliver excellent travel choices. Cotton is the perfect choice for warmer climes, lightweight and easy to pack. While cotton may wrinkle slightly while packed, a quick trip into a steam filled bathroom will remove those creases easily. Other natural fibers like silk and even linen blends are also popular choices for traveling.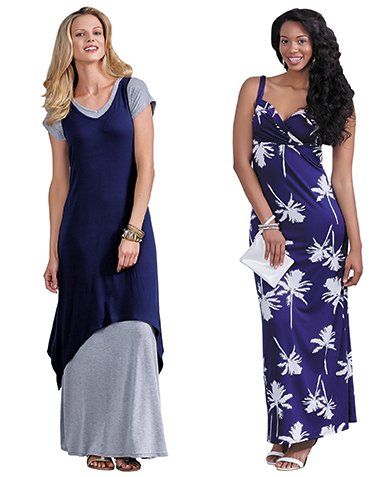 Chiffon (often made of silk or cotton) as well as synthetic fabrics and microfibers like acrylic nylon and Tencel are also excellent choices for traveling. All of these are lightweight and easy to pack, flowing and airy when unpacked and will have you looking oh-so-chic when you reach your vacation destination.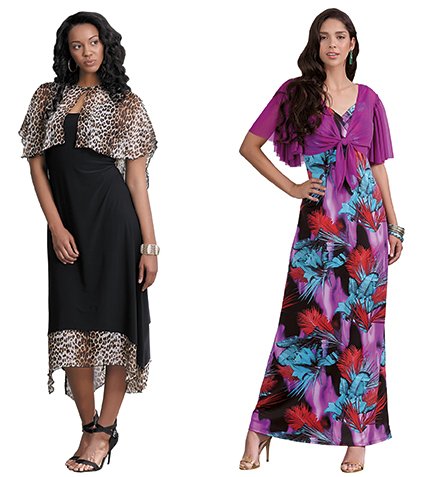 Here are a few color and pattern tips to help you complete your travel planning and get you well on your way to a wonderful summer holiday this year. First of all, pull together your travel wardrobe with a few key items – dresses of course! Stick to several of your favorite colors and always take along one gorgeous little black dress. When packing consider patterns and florals as they will conceal minor stains or spills that happen along the way.
Of course, now is the perfect time to shop with me from among my latest spring and summer collections filled with dresses that are ready to take you on your amazing vacation! Shop 24/7 at www.AntthonyOriginals.com and on HSN. Join me live on May 23 from 10 AM to 11 AM, 11 AM to Noon, 3 PM to 4 PM and 4 PM to 5 PM EST. I'd love to help you select your summer holiday dresses!
Upcoming Show Dates:
SATURDAY MAY 23RD
10am-11am  11am-12 noon
3pm-4pm  4pm-5pm
All Times Are Eastern Standard
[really_simple_share]