Every year about this time do you look in your closet and think, "why do I not have more loose, comfy, breezy dresses?" Here are a few pretty and breezy Antthony dress options for surviving the rest of the summer, in style and on a budget.
The perfect summer dress should be figure flattering and easy to wear. It should be light enough for the hottest day, but more substantial than your standard swimsuit cover-up. And it should be casual enough for a day of hanging out with friends, but dressy enough that you can take it from brunch to a garden party to dinner and drinks with just a few quick accessories changes. The Antthony Wet Meadow Knit Maxi Dress encompasses all these characteristics making it a true summer staple.


For summer, there are plenty of trends to try out. Floral prints like the Antthony Soul Reflection Lake 3 piece Jacket, Tank and Skirt Wardrobe are always a favorite of the season; while dresses with cut out details like the Antthony Waters of Life Dress and Shrug with Crochet Back Set are also flirty and perfectly on-trend.
Maybe you are looking for the perfect dress for attending a summer wedding! If so, try the Antthony Refreshing Tropical Glades Dress with Chiffon Overlay. It is a breezy summer dress that won't cling and is a stunning look for day or nighttime receptions, parties or dinners.
When you are shopping, look for dresses that hang effortlessly away from your torso. The more that air can circulate around your actual skin, the less likely you'll become a human puddle. Embrace your girly girl with sundresses that are fun and flirty. The Antthony Enchanted Mermaid Marsh Knit Dress is one dress you will for sure want to add to your summer wardrobe to stay cool and stylish in the heat.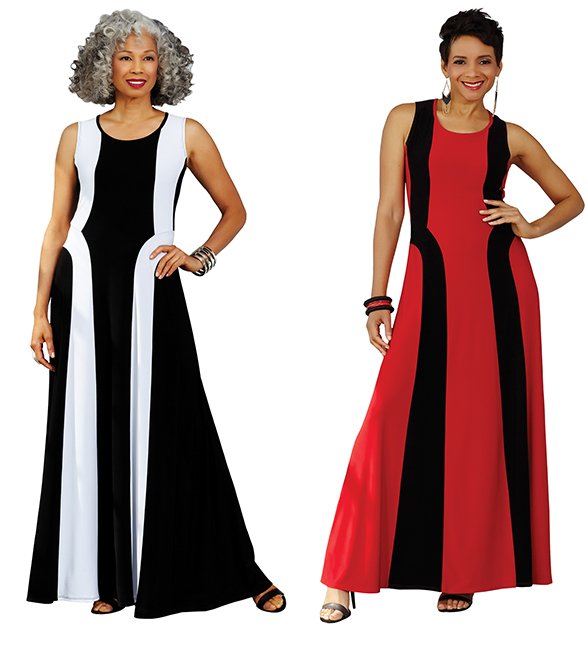 From the first day of summer to the last, beautiful Antthony dresses will turn your wardrobe into a dream! These flowing and figure-flattering dresses will easily find their way into rotation as summer favorite.
As always, you can shop Antthony online at HSN or www.AntthonyOriginals.com anytime 24/7. All of my designs come in petite, missy and women's sizes, so there is something here for every woman.
Get ready for a season of exotic fun and cool comfort by shopping the latest styles from the Antthony Summer Rhapsody Collection.
The exquisite dresses, flowing maxis and classic shorts are designed to ensure you look your best and feel fashionably chic this summer. In this collection I've combined the freshest colors and patterns of the season to create a melodious selection of women's clothing ideal for a wedding celebration, an exotic vacation, or simply sipping lemonade with family on the front porch.
Ladies,
One of my favorite pieces is the Antthony Tropical Oasis Getaway Vest (416-032, $29.90) paired with the Antthony Tropical Oasis Getaway two-pack Short and Crop Pant. They make a great transition outfit that you can wear from spring throughout the summer.
Tune in to HSN on Thursday, June 25th at midnight to kick-off my Today's Special! You'll want to shop early to get the fabulous Antthony Tropical Oasis two-pack of Tunic T's and matching wristlet (Item 416-026, $49.90) before they sell out. Join me and select your new favorite look from the Summer Rhapsody Collection.
Color My World,
Antthony
Upcoming Events:
On Friday, June 12th the HSN.com Host Pick for Bobbi Ray Carter will be the Antthony LaFonda Maxi dress. Login and shop the best dress to celebrate your curves with this hourglass color block dress that will highlight your best assets while giving your silhouette a boost.
Antthony's Host Pick for Bobbi Ray Carter
Friday, June 12th
6pm & 9pm EST
For a great deal, be sure to shop the Today's Special on Thursday, June 25th when HSN will feature an Antthony design as their best value of the day. Shop smart and build a wardrobe with classic pieces!
Antthony's Today's Special
Thursday, June 25th
12am-1am
1am-2am
3am-4am
8am-9am
12pm-1pm
3pm-4pm
4pm-5pm
8pm-9pm
Then be sure to tune-in to HSN Network on Sunday, June 28th when I will share my full Summer Rhapsody collection – live. I will be there to help you find the best outfit for your exotic summer vacations so you can look good while having fun in the sun!
Antthony's Summer Rhapsody Debut
Sunday, June 28th
6am-7am
7am-8am
7pm-8pm
8pm-9pm
All Times Are Eastern Standard
[really_simple_share]