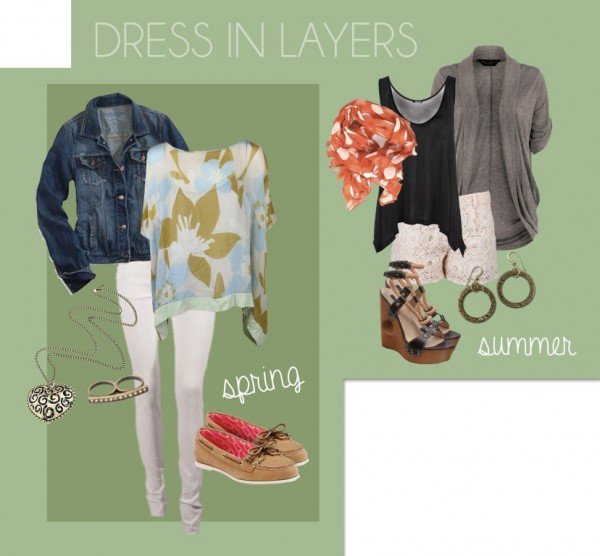 Gone are the days of layering solely for warmth. One might think that three shirts are unnecessary for a look that is not trying to keep core body temperature steady, but any fashionista knows that a cami, shear floral shirt and a cardigan is a great combination for the office or a dinner date! Not only does layering add dimension and individuality to your outfit, it also allows you to eek many more miles out of your current wardrobe through the magic of mixing and matching.
One of the most important considerations in layering for style is making sure to mix different fabrics. Don't go crazy on pairing different patterns, but different textures in complimentary colors will help you achieve the ultimate put-together look. When it comes to picking pieces from your closet for the layered look, keep in mind that everything should exude cohesiveness from accessories to footwear and everything in between!
Because these layers are not for bundling, it's important to pick pieces that complement each other weight-wise, as well. A chunky cardigan may be great as a top layer, but make sure to don lighter pieces underneath to eliminate unnecessary bulk and allow you to walk out the door as your sleekest self!
Scarves are such a versatile piece for any season. A bright scarf can add personality to even a summer look. Pair it with a flirty pair of shorts, tank and cover-up for a cute day to night ensemble. If it gets too toasty, remove the cover-up and let the tank/scarf combo speak for itself!
Thinking ahead to the colder months, socks have become a big part of the fall/winter layered look. Nothing pulls together a pair of skinny jeans and knee-high riding boots like a great pair of knee-high or over-the-knee socks. If you're in the mood for patterns, keep them subdued, but it's always fun to play around with thickness or different knits to add even more dimension to your look.
Whatever weather is outside your door right now the basics of layering can always apply. Challenge yourself to find new and different ways to mix and match your favorite pieces, even perhaps pulling them off the hanger in seasons that you might not expect.

[really_simple_share]