Although denim is one of the most commonly worn fabrics (in pant form) there are so many other ways to rock this thread! Keep reading for some tips and tricks on this summer's trends and how to avoid falling into the most common denim pitfalls.
Denim is frequently showing up this season in shirt form instead of pants. This can be a fabulous trend if done right. It is important to avoid a monochromatic shirt/jacket and pant combination of denim as that will transport you to 1980 in a hurry! Instead invest in a sheik denim shirt dress which can be belted and worn with a chunky necklace and sandals for the perfect summer look.
If you're in the mood for pants don a denim shirt with tied tails and a pair of white skinny jeans or trouser pants for a perfectly acceptable denim-on-denim look. It is important to steer clear of pairing two differently hued blue denims together or a whole outfit of the same blue denim, shirt dresses excluded.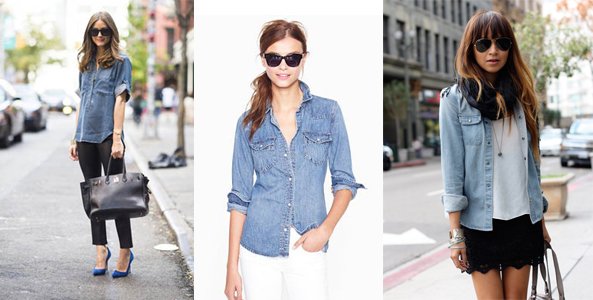 Denim vests and jackets are another popular wardrobe staple for this summer. This fashion must is a perfect pairing for a summer sundress on breezy days or for a cover-up in a more casual office.
Follow these important tips when searching for your perfect denim jacket or vest. Avoid buttoning up this piece, instead think of it as a cardigan and wear it as such. If you are larger in the chest make sure to find your piece without breast pockets to avoid looking bulky in that area.
Keep in mind that the wider the shoulders of the vest or jacket are the wider you will look. Make sure to try on your piece before you purchase it and don't be afraid of a slim-fitting jacket as it will always be worn over something. Finally, consider a light wash or white denim for your jacket or vest, as it is a bit more chic and modern if you are looking for something a bit more professional!
Be creative and use your versatile denim tops to dress up or down your favorite outfit!


[really_simple_share]