We dare you to try and tell us that embellishments "just aren't your style." BECAUSE HONEY. Embellishments are the exclamation marks at the end of an outfit; the sprinkles on the sundae of an ensemble; the perfect touch of dazzle to elevate your wardrobe a few "wow" points! (See where we're going with this? They're good stuff.)
Come on and join us, little sparkler, as we embark on a shopping adventure through our embellishment wonderland packed full of our favorite embellished pieces available exclusively at HSN.com!
Jazz it up with a jacket
We've got two options for you, one for each end of the style spectrum. First up is the ever-popular, oh-so-versatile Inessa jean jacket, scattered with an ingenious combination of nailhead and bezel-cut rhinestones for the perfect balance of edgy and elegant.
On the fancier side—and straight from our couture line—comes Dionne, a "career denim" (don't you love that?) with flourish embroidery accented by nailheads and rhinestones.
What we love is that, while each piece carries its own distinct style, they're each incredibly mix-and-match friendly as well. From dress pants to dark denim, the sky's the limit when choosing an outfit to accent!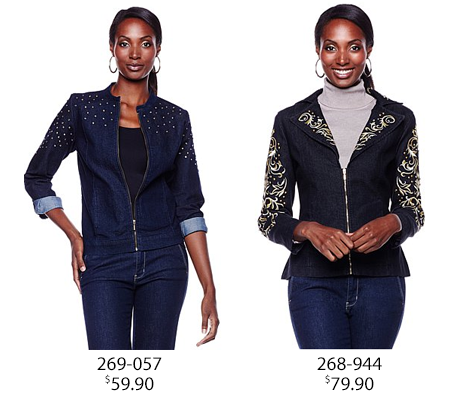 Take a "twofer" for a sparkling spin
We start with one of Antthony's all-time faves—a piece he declared one of the "BEST of Antthony." It's the Mayrse top and tank set, accented by gorgeous glass beads and crochet detail on the long-sleeved, open-front top and balanced by a smooth, sweet and simply-fitted tank underneath.
A reverse of Mayrse's "embellished outside and simple within" scheme, Paulette's sparkle is concentrated on the interior top—but subtly, and in the form of clear sequin dots! On the outside, the simple top layer provides balance with its smooth, sleek appearance.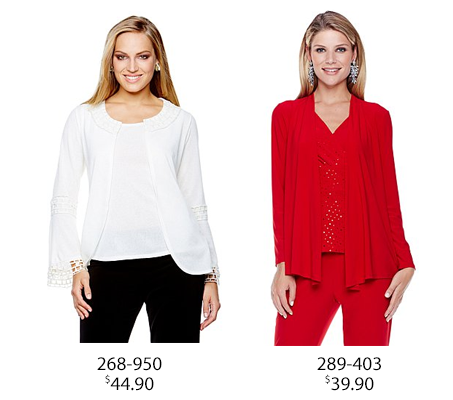 Simple sparklers
For those times when a little extra sparkle is all you need, these two lovely ladies do the trick! On the dressier side, we present Celine, ravishing in rows of ruffles and scattered with a night sky's worth of sparkle. (This top looks goooooorgeous with leggings and slim-cut pants, by the way.)
For a less-formal look, it's all about Hudson—done up to dazzle with a Celtic-inspired cross print and decorative scattering of eye-catching stones atop T-shirt-comfortable fabric. Just add your favorite jeans and a pair of heels, and you're stylishly set!
Daring in done-up denim
No offense to classic denim, but embellished denim has SO much more fun. Take Adora, for example; the front cuffs are having a flourish embroidery party atop the comfortable stretch denim fabric, proving you never have to sacrifice comfort when stepping outside the box.
When a skirt is in order, Dionne couldn't be a more perfect choice! Coordinating beautifully with the Dionne jacket we mentioned above, it's also a stunning stand-alone thanks to the nailhead and bezel-cut rhinestone details down each side panel.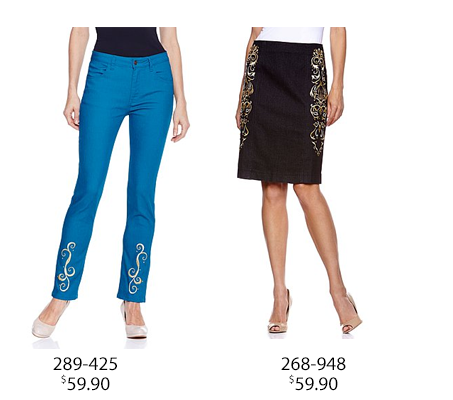 All right, sparkly fans of ours… tell us what pieces are capturing your heart! And don't forget—if you're in love with these embellished ensemble-makers, you can ONLY find them at HSN.com. Get them before they're gone!
Be sure to check out Antthony live on HSN November 24 & 25!
Sunday, November 24 at 6 a.m., 7 a.m., 5 p.m. and 6 p.m.
Monday, November 25 at 7 a.m., 8 a.m., 2 p.m. and 6 p.m.
[really_simple_share]