If you see the phrase "country cool" and immediately think of rhinestone-encrusted belt buckles the size of a kindergartner's head and cowboy hats big enough to pour a gallon of sweet tea into… then oh, sweet pea, this week's blog is for you.
It's high time to shake up your definition of "country cool," because the wild wild west is fixin' to steal your heart this season and we promise—there's not a spec of cow print and nary a ten-gallon hat to be found.
Here's how to properly lasso the country cool look.
On the Fringe
Let's start with skirts. It's true that you normally see a fringed skirt and immediately think "flapper," but here in the season of country cool… we like our fringe in suede. Try out the look with a classic western shirt—pointed yokes, pearlized snaps and all—to really drive the look home, or keep it simple with a basic tee or tank instead.
Maybe accessories are more your speed? Fringe looks extra fabulous on purses, especially when paired with metal or bead adornments, Aztez-inspired embroidery, and whipstitch seams. Is picking up a fringed purse a bold choice? Oh, most definitely! But it couldn't be a more beautiful addition to your country cool ensemble, and fringe is equal parts bohemian beauty for when your style tastes swing that direction.
Last, but not least, we take a look at fringed boots. High or low, fringed boots can make a one-of-a-kind impression, whether the fringe shows up as part of a bootie collar, layered in rows down a longer boot shaft, or having its own energetic parade up the back of a knee-high boot. That's the best part about fringe; it doesn't have to be bold or in your face to capture the magic of country cool!
We couldn't write about country cool without a visit to turquoise territory, now could we?
Whether you choose to add your accent as earrings, a bracelet, a ring, or a cuff, accessorizing with turquoise immediately puts you on the right track toward nailing the country cool look. Don't ask us why, but it also always, always looks amazing with leather and suede—try it. Love it. (Trust us.) It's like they're meant to be together.
The crowning glory of any country cool ensemble? Y'all know it: A good pair of boots. We've already touched on the glory of fringed boots, but now we're veering into more traditional western territory where the look is less about fringe and fancy, and more about kicked-back and casual.
If you're into embellishments, cowboy boots show off some of the most eye-catching, intricate embroidery you'll ever find. Plenty of pairs also come plain and simple, if that's more up your alley, while others have amazingly colorful cut-outs or appliques that amp up your western cred in, say… 8 seconds or less. (If you got that rodeo reference, congrats! If not… hey, you'll still look the part.)
Though 9 times out of 10 you see cowboy boots paired with bootcut jeans, some of our favorite pairings with cowboy boots include knee-length skirts and dresses; long, flowy maxi skirts; and skinny jeans, all the better for showing off any embellishments!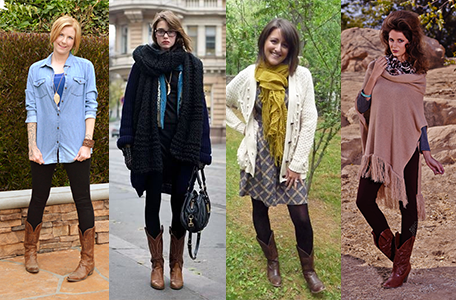 If you're testing the country cool look, we want to see it! Find us on Facebook  and show us your cute new fringed boots, dazzle us with your turquoise accessories, or stun us with your suede-and-fringe style.
We'll be waiting!
[really_simple_share]