The best solution for the chilly mornings and cool summer evenings is a cardigan. No longer the preserve of prim school uniforms and old-fashioned aunties, a cardigan will keep your arms warm without covering up half your outfit.
A decorative cardigan is a useful piece to have in your wardrobe as it can transform a plain dress into something special. Take the Antthony Gemstone of the Sea Embroidered Shrug for example. It is the perfect choice when you want to look feminine, but not heavy.
You can also add a fresh and airy touch to summer outfits with a great open front vest. The vibrant Antthony Tropical Oasis Getaway Knit Vest can be added to any outfit to get a pop of color without feeling too bulky. Soft, thin and light, this open front vest is the ideal cover up for sunny days and sultry nights. You can also try it with a belt to create a more polished look.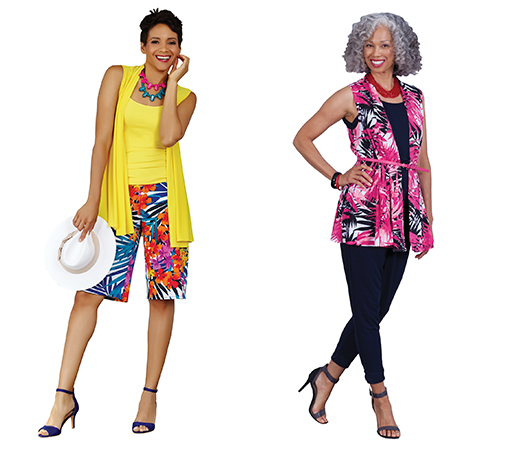 The cardigan is truly fashions best friend. It helps you layer your way through climate transitions and is versatile to wear with almost everything. The Antthony Waters of Life Dress and Shrug with Crochet Back Set shown below can be worn with or without the shrug to add a lovely layer warm enough for spring and light enough to take you through summer.

Every woman should have a good cardigan in her closet. You can shop Antthony designs online at HSN.com or www.AntthonyOriginals.com anytime 24/7. All of my designs come in petite, missy and women's sizes, so there is something here for every woman.
Upcoming Events:
This week on Friday, June 12th the HSN.com Host Pick for Bobbi Ray Carter will be the Antthony LaFonda Maxi dress. Login and shop the best dress to celebrate your curves with this hourglass color block dress that will highlight your best assets while giving your silhouette a boost.
Antthony's Host Pick for Bobbi Ray Carter
Friday, June 12th
6pm & 9pm EST
For a great deal, be sure to shop the Today's Special on Thursday, June 25th when HSN will feature an Antthony design as their best value of the day. Shop smart and build a wardrobe with classic pieces!
Antthony's Today's Special
Thursday, June 25th
12am-1am 1am-2am 3am-4am 8am-9am
12pm-1pm 3pm-4pm 4pm-5pm 8pm-9pm
Then be sure to tune-in to HSN Network on Sunday, June 28th when I will share my full Summer Rhapsody collection – live. I will be there to help you find the best outfit for your exotic summer vacations so you can look good while having fun in the sun!
Antthony's Summer Rhapsody Debut
Sunday, June 28th
6am-7am 7am-8am
7pm-8pm 8pm-9pm
All Times Are Eastern Standard
[really_simple_share]