We know it's a scary prospect to think about wearing bright colors. We mostly blame the '80s, when bright colors were at their brightest and the entire decade turned into a runway of questionable color choices.
Wearing bright colors is a bold, exciting choice and, admittedly, it's a little scary to venture into this new fashion territory when you're not sure where to start.
But don't worry! We're here to guide you in your quest to add color.

Start Small: Try a Scarf!
A good rule of thumb to follow is this: Let your bright color be the accent. An easy way to keep brights balanced is by pairing them with solid, "quiet" colors. Against a neutral base—like black, white or brown—your bright scarf will absolutely steal the show. If it's a scorching summer try, repurpose your bright scarf as an accent on your bag, or try it as a headwrap.

Embolden your Belts
Adding a belt is one of our favorite tricks for waking up an outfit, especially when you choose a belt in a bright color. Try a skinny belt with dark skinnies and a basic tee; belt a looser-fitting maxi just under the bust; or layer a belt over a classic cami-and-cardigan set for an instant update. It's amazing, the difference just one bright belt can make!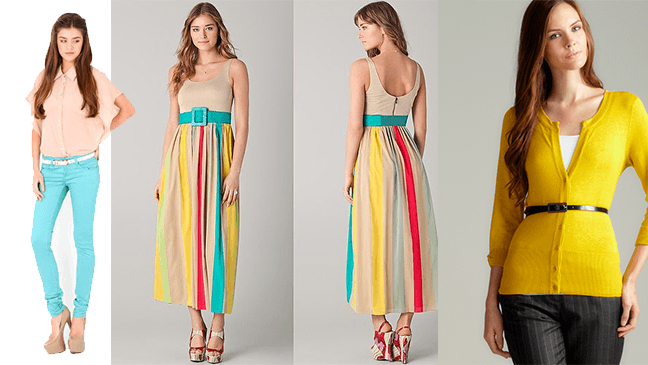 Brights Underfoot
Perhaps the most fun way to add color is on your feet! It's impossible not to feel a little extra energy in your step when your shoes are bright and bold. These days, bright heels are just about everywhere, and they're nearly as versatile as neutrals! Especially when the rest of our outfit stays in the "quiet" color zone, there are NO holds barred on the colorful shoes you can choose. Every style—from pumps, to wedges, to sky-high heels—comes in a rainbow-inspired hue these days, and it's just a matter of choosing your favorite.
Cheery Cardigan
As we've mentioned, the key to pulling off bright colors is balance. When you add in a really big dose of color with a bright cardigan, make sure that you've got balance in the rest of your outfit. If you're pairing the bright cardigan with a patterned dress or skirt, be sure that the pattern's colors complement the color of the cardigan; likewise, if you're pairing the bright with a solid color, make sure they don't compete. Black is an all-time favorite for really showing off a bright piece, as is white.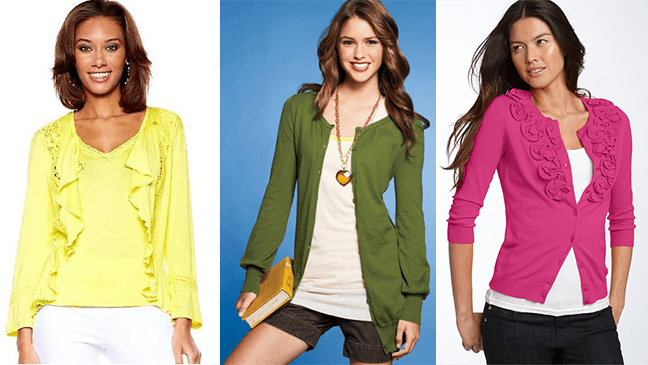 [really_simple_share]