When it comes to office style, a pair of black trousers will always be a wardrobe staple. They are classic and simple and look fabulous when worn with a great pair shoes, a great bag, a watch, or the right jewelry. Black is one of the easiest colors to match. No matter how many times you've worn them, you can instantly change up the look by putting on a new top.
HERE ARE SOME GREAT TOPS TO MIX AND MATCH
WITH BLACK BOTTOMS!
Bright jeweled tone blouses look best. Colors such as ruby red, sapphire blue and emerald green really stand out and look super sophisticated. Stay away from wearing a pastel shirt with a pair of black pants. Pastels are subdued and black pants tend to wash out the color.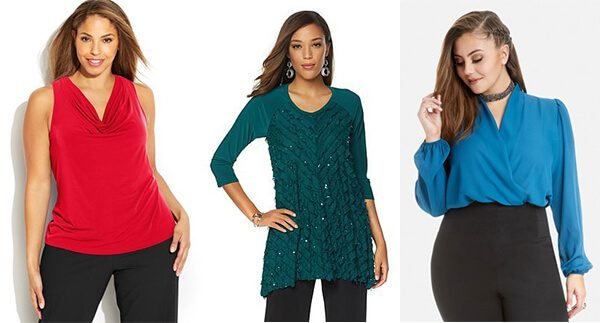 Calvin Klein Plus Size Knit Cowl-Neck Top from Macy's
Antthony "Decked in Comfort" 3/4-Sleeve Ruffle Top from HSN
Biltmore Bodysuit from Fashion to Figure
Patterned tops create instant visual interest, making them an easy way to add drama to an outfit. They add punch to a look when a solid feels blah. Bold patterned shirts really pop if your pants are basic and in need of some fashion umph.
Antthony "City Night" Printed 3/4-Sleeve Top from HSN
Hatley Pleated Neckline Blouse from Zappos
Antthony "Sassymama" Printed Chiffon Shirt with Tank from HSN
Have you taken a shine to metallic for the holiday season? Same here. Don't be afraid to go casual with metallic tops. They can elevate a weekend look without making you look like you tried too hard. And don't limit yourself to gold and silver. Primary colors come in metallic sheens too, plus there is always copper and bronze! Get merry and bright in these glitzy looks.
Nine West® Tie-Neck Charmeuse Blouse from Bon-Ton
Alex Evenings Portrait Collar Blouse from Dillards
Sequined blouse from H&M

Finding the perfect pair of black pants can be as difficult as shopping for a good pair of jeans. There are so many brands and silhouettes to choose from and you need to find the right fit for your frame. Don't be afraid to try on multiple styles until you find the one that is right for you. Then, when you do, drop some extra cash. These are wardrobe power players that can be re-worn and restyled time and time again.
HERE ARE SOME TROUSERS SHAPES FOR EVERY SIZE WOMAN!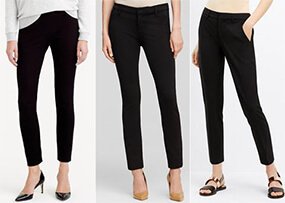 Skinny Jeans – A skinny leg trouser is ultra flattering, not matter your size. It masks any unwanted weight by pulling everything in, but make sure they aren't too tight, both for comfort and because you don't want to create unwanted muffin tops!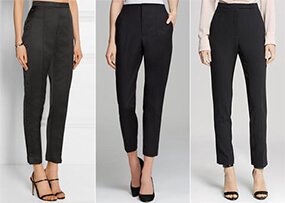 High Waist – These trousers accentuate your waist and shows off your backside. Try them on to make sure there is a little room. The eye should flow from the waist to the hem. These are great for a button-front blouse to wear to the office.
Straight Leg – This is an everyday pant that is ideal for work or the weekends. The tapered leg pairs equally well with pumps, sandals, sneakers and flats. Choose a pair with a close fit, but again, no too tight. The hem should hit just above or below the ankle.
Wide Leg – This cut shows off your shape by elongating your legs and accentuating your waist. Find a pair that just grazes the ground when you are wearing heels. You may need to have these pants tailored to ensure a custom fit.
You work hard, so every now and then give yourself a reward to help you feel rejuvenated and look as good on the outside as you feel inside. Treat yourself to a new blouse or pair of timeless trousers that flatters your figure and enjoy the compliments that follow.
If you haven't already finished your holiday shopping, go online to HSN.com or www.AntthonyOriginals.com to find my Anthony designs online anytime 24/7. Each of them come in petite, missy and plus sizes, so there is something for every woman.