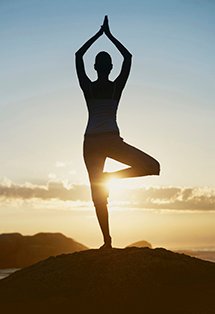 Essential oils are a versatile part of a natural medicine cabinet and they work to support the body's own healing system. The beauty of these oils is that they can be used in many different ways, depending on what you need. They can help rid the body of toxic waste, negative thoughts, stress, anxiety, and harmful organisms. When used correctly they can energize your life and allow you to reclaim your natural radiance!
When purchasing essential oils, keep in mind that they are not the same as fragrance oils, which are synthetic and may not be safe to use on the skin; essential oils are always natural.
---
LAVENDER OIL
Lavender is well known for its calming properties to relieve tension, headaches, hypertension, stress, depression, anxiety and insomnia. It is the most versatile all-purpose Essential Oil available. It's inexpensive, and can be applied directly to your skin, if necessary. Many women also use this scent in a diffuser or as candles in their homes for the same effects.
PEPPERMINT OIL
Peppermint oil can be used in the bath, can be consumed, and can be applied topically. Peppermint oil helps you regain or maintain your concentration, and can soothe the digestive system. The smell of this wonderful cooling oil can also help combat feelings of nausea, making it a great choice for motion or morning sickness.
ROSEMARY OIL
Rosemary may be in your herb collection in the kitchen, but the oil derived from this plant can help improved digestion, circulation, and provide anti-inflammatory benefits. You can inhale the oil as a form of aromatherapy, or take a bath with it.
EUCALYPTUS OIL
Eucalyptus is mentally invigorating and stimulating, it increases alertness and gives you a greater ability to concentrate. Eucalyptus has a powerful scent that can change the air quality very quickly making it a great odor remover, but a favorite use of this powerful oil is to open up the nasal passages and invigorate the senses.
PATCHOULI OIL
Patchouli oil comes from the patchouli plant, which has been shown to help improve the mood, and can even improve your sex drive. It's one of the essential oils that doesn't get put into the spotlight too often, but has great benefits to it nonetheless.
BERGAMOT OIL
Bergamot is good for allergy-related conditions. It also helps relieve the pain, itch and swelling from insect bites, and can be used to balance your emotions and is especially useful in times of anxiety and when dealing with depression.
GRAPEFRUIT OIL
Grapefruit is antiviral, antiseptic, diuretic, and can aid the digestive system and skin. It refreshes the mind, relieves anxiety, is reviving, uplifting, and helps disperse negative energy.
LEMON OIL
If life gives you lemons, inhale the scent and you'll feel more joyful instantly. This happy essential oil has a myriad of uses to enhance your home, body and mood. Place a few drops in a diffuser and inhale to feel happier and more joyful. Inhaling the scent of lemon also curves the desire for sweets.
FRANKINCENSE
This beautiful oil will help slow down breathing and has a calming effect on emotions. It is one of the most useful oils for respiratory infections, especially when used in aromatherapy massage. Frankincense can also help with those dreaded wrinkles because it is a natural toner, decreasing the appearance of pores and evening skin-tone.
HYSSOP OIL
This is a lesser-known essential oil but one that will likely grow in popularity as its benefits become clear. It is often given to help treat digestive issues, and an improved digestion. If you are feeling sluggish, this is a great oil to gently and gradually improve and take a step towards improved health.
Once you become familiar with these basic essential oils, branching out and creating your own combinations is simple and fun. They can easily be incorporated into your daily life, whether it is as a home remedy or even just aromatherapy to boost your mood.
Upcoming Events
Mark your calendar and tune-in to HSN on Saturday, November 28th at 5am, 6am, 7pm and 8pm when I will share my favorite looks to give as gifts this season. I look forward to sharing my designs with you and creating your wishes and wants list for this holiday. Whether for yourself or as a gift, this collection is sure to be your one-stop-shop for the women in your life this year.

Antthony's Gift of Giving Collection Debut
Saturday, November 28th
5am – 6am
6am – 7am
7pm – 8pm
8pm – 9pm
[really_simple_share]